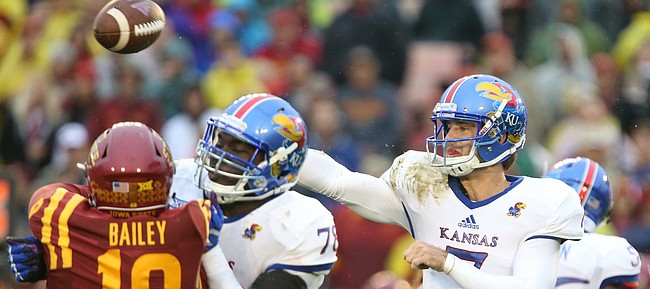 Peyton Bender learned a week ago he would open the season as the Kansas football team's starting quarterback.
As the senior approaches Saturday's matchup with Nicholls State, Bender also understands he will have to prove himself worthy of maintaining that status in week two and beyond.
KU head coach David Beaty explained Tuesday at his weekly press conference why Bender, who also opened the 2017 season as the Jayhawks' No. 1 QB, wouldn't be guaranteed anything just because he currently sits atop the depth chart.
"That job is just like any other job. I know you guys all want to hear who the starter is, but it's only as good as the day is. That dude's going to have to win it the next day, too," Beaty said. "We'd like to find stability there, but you're going to have to earn it. I'm not just going to give it to you because somebody wants to know who the starter is. I don't care about that. I care about what you prove on a day-to-day basis — how hard you work. Do you prepare? Can you move our team? Will you take care of the ball? Will you value possession? Will you go through your progressions? Will you do it the way that you are coached to do it? Can we trust you when we toss you the keys?"
The 6-foot-1, 205-pound senior, speaking with media members for the first time since being named the starter on Aug. 21, said both Beaty and offensive coordinator and QBs coach Doug Meacham emphasized those types of questions to him. As a result, Bender has a not-so-subtle reminder pushing him to be at his best this coming Saturday (6 p.m., David Booth Kansas Memorial Stadium).
"You have to treat every day like you have to win the job," Bender said. "Carter (Stanley) and Miles (Kendrick) are both players capable of stepping in and playing. Every day, I just have to treat it like I'm the backup and I have to go out there and prove something. That's how I'm going to approach it."
In his first season at Kansas, Bender started the first seven games of the season before Stanley took over for the next four. With Stanley injured for the finale, Bender closed the year with his eighth start.
At his best, Bender threw for 364 yards and four touchdown passes, with two interceptions, in KU's lone victory of the season, the opener versus Southeast Missouri State. At his worst, the QB was hurried and pummeled behind a beat-up offensive line in back-to-back road shutouts at Iowa State and TCU.
He finished the season completing 54.2 percent of his 273 pass attempts for 1,609 yards, with 10 touchdowns and 10 interceptions.
At this stage of his career, Bender said he feels more prepared entering Week 1 than he did a year ago, when KU named him the starter on the day of the opener.
"I think getting a year's worth of offseason work, continuing to build chemistry with the teammates, build chemistry with receivers, definitely is going to prove beneficial. And then, just getting all those games underneath my belt last year, I think, definitely helps. There's nothing like game reps," Bender said. "I'm going to try and take that experience and, you know, use it to the best of my ability as far as preparation, kind of knowing what to expect when you're on the field and playing through the different type of environments that I got to experience."
KU's coaches observed Bender hit the checkmarks of a starting QB during practices this month. Now, Beaty said, they want to see in-game proof that he has improved from last season.
"I think the big thing for us with Peyton is, I'm excited to see him play behind an offensive line that has some real depth and some real competition," Beaty said. "I think that's going to be big for him. I want to see him be efficient. I want to see us move the chains. I want to see us keep our defense off the field by collecting first downs, and that means taking what defenses give you and not necessarily thinking about big plays all the time. Because you can make big plays by throwing the ball behind the line of scrimmage a lot of times if that's what the read says."
During his junior season, Bender was sacked 17 times. He also suffered two fumbles, losing one. Beaty often over the past several weeks has mentioned the QB is doing a better job of protecting the ball and making smart decisions, and that played a key part in Bender winning the job.
According to the QB, he spent time studying game footage since the conclusion of the 2017 season to make progress on that front.
"Every week, we were up here watching film, just trying to learn more about what defenses are trying to do to us," Bender said. "Learning about where certain players are lined up on defense and why they're lined up there, so you can take advantage of what they're trying to do. I think I've gained knowledge as far as coverage reading and just trying to be more disciplined when I drop back — checking it down to the running back more when it's not a clear picture to throw it. If it's not clearly open, just don't force it. There's another place to go with the ball. Scramble, try and extend the play more."
How much Kansas will ask of Bender as a passer and playmaker won't be known until Saturday. How long the QB remains the starter beyond the Jayhawks' 2018 debut likely will come down to some simple factors.
"Just being patient and taking what they give you," Beaty said of what he wants to see. "Valuing possession. Value each possession, and that quarterback touches it every play, so he's going to be extremely important in that."