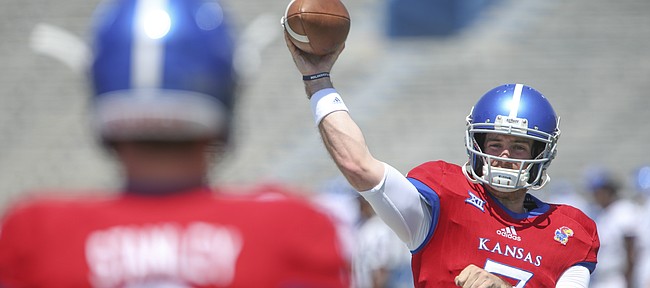 Speaking publicly for the first time since naming Peyton Bender his team's starting quarterback for Saturday's season opener, Kansas football coach David Beaty shared Monday morning some of the details that led to the decision.
"Peyton has done a terrific job of taking command," Beaty said on the Big 12 coaches media teleconference, explaining the senior QB showed during camp practices he has developed into a player who takes care of the ball. "He really worked on that part of his game."
Now in his second year at KU, as well as his second playing for offensive coordinator Doug Meacham, Bender, according to Beaty, looks to have mastered more of the Air Raid system than the 6-foot-1, 205-pound QB displayed in 2017.
"He's continuing to grow in that area that he felt like he needed to improve on from last year, and we certainly did, too," Beaty said. "So we're looking forward to seeing him go out there and play."
In his first season at Kansas, Bender started eight games and completed his junior year with 1,609 passing yards. He completed 54.2 percent of his 273 throws, with 10 touchdowns and 10 interceptions. Bender fumbled twice in 2017, losing one.
Since naming Bender the starter for the 2018 opener — 6 p.m. Saturday versus Nicholls State — Beaty also said he has witnessed what he hoped he would from the backup QBs, redshirt junior Carter Stanley and sophomore Miles Kendrick, both of whom spent the past several months trying to win the job.
"The good thing is that we know we've got three very capable, very talented guys who understand what we're doing, which is really, really good," Beaty said.
Additionally, KU's fourth-year head coach expects the team will need Stanley and Kendrick at some point between now and the season's conclusion.
"There's gonna be a place and time for all of those guys," Beaty said. "It's the Big 12. It's a very rigorous place to play for quarterbacks, and every one of those guys have got to be ready to be the starter on a moment's notice."