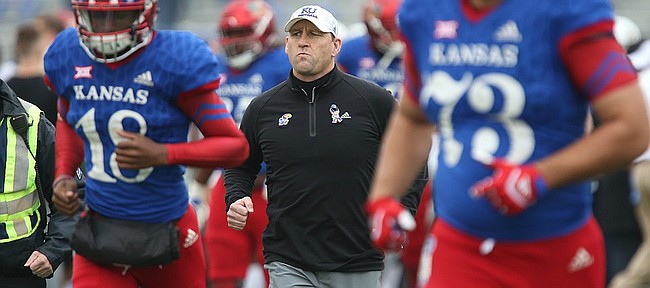 Internally, head coach David Beaty knows how critical it will be for his fourth University of Kansas football team to outperform the three that preceded it.
While externally, Beaty won't say how many games his Jayhawks need to win to squelch questions about his job security, he has acknowledged such debates come with his position.
"Well, the name of the game in college sports is production," Beaty said earlier this summer. "We feel like we understand that that is no different for us than it is for anyone else. Production is the name of the game. So when it comes to our preparation that's not going to change."
The coach's 3-33 record since taking the job in December of 2014, teamed with the hiring this summer of new athletic director Jeff Long, means this season will come with plenty of scrutiny, beginning with KU's season opener against Nicholls State on Sept. 1.
"We're going to start with game one and the goal is to go 1-0, to win that game and then put just as much focus on that next game to be able to do the same and repeat that," Beaty said. "When it comes to a win total, I don't have that answer. I don't know that many people do. But I know this: I'll bet around Christmas time we know."
Here's a look at the players who will help determine just how Year 4 of the Beaty era plays out.
Quarterbacks
Unlike previous preseasons, Beaty decided on his opening week starter at QB with some distance between the resolution and the team's debut. KU announced this past week Peyton Bender, a 6-foot-1, 205-pound senior, won the job.
Bender also opened 2017 as KU's No. 1 QB. He started the first seven games before being replaced by Carter Stanley. Bender returned to the top of the depth chart for the season finale, giving him eight starts in total. He threw for 1,609 yards while completing 54.2 percent of his 273 throws, with 10 touchdowns and 10 interceptions.
While Bender was sacked 17 times during his first year at KU, the Jayhawks hope an older, larger offensive line will give their QB more time to operate this coming fall.
Beaty has not yet announced how the rest of the depth chart will shake out, but both Stanley and sophomore transfer Miles Kendrick are available to back up Bender.
Running backs
Kansas might not need to ask as much of Bender as a typical Air Raid QB this season, thanks to what projects as a talented trio of running backs.
The team's leading rusher in 2017, junior Khalil Herbert averaged 5.5 yards per carry and ran for four touchdowns a year ago. The 5-9, 210-pound back from Coral Springs, Fla., seemed on the verge of a breakthrough sophomore season when he followed a 137-yard showing at Ohio with 291 yards on the ground against West Virginia. But injuries slowed Herbert the remainder of the year.
Even if Herbert gets through the upcoming 12-game schedule relatively unscathed this time around, KU will want to keep two other running backs heavily involved, as well. Sophomore Dom Williams (5-10, 195) spent his offseason packing on muscle to help him withstand the hits that come with the position. A four-star prospect out of high school according to Rivals, Williams expects in his second season to contribute much more than the 176 yards and three TDs he accounted for as a freshman.
Coaches haven't yet indicated just how much the offense will feature true freshman Pooka Williams (5-10, 170), an electric New Orleans back who garnered a four-star rating. But they will begin seeing how much he can handle and just how productive he could become by putting the ball in his hands in the opener against Nicholls State.
Receivers
The most prolific receiver to come through KU since Dezmon Briscoe and Kerry Meier, senior Steven Sims Jr. (5-10, 176) needs just 66 catches over the course of his final college season to exit the program as its all-time leader in receptions.
A Houston native, Sims easily led KU in catches each of the past two years, making 59 as a junior and 72 as a sophomore. The speedy wideout will be the top target for Bender, who should have an array of complementary targets accompanying Sims on passing plays.
A 6-3, 210-pound junior, Evan Fairs figures to be the receiver most likely to rise up and make a play over opposing cornerbacks.
The Jayhawks also hope one or more among junior Daylon Charlot, sophomore Quan Hampton, and seniors Ryan Schadler, Kerr Johnson Jr. and Jeremiah Booker emerge as a reliable contributor to the air attack.
While KU's recent offenses haven't often incorporated tight ends, this year's roster has junior James Sosinski and graduate transfer Mavin Saunders (Florida State) as a couple of options.
Offensive line
A new position coach in A.J. Ricker and a number of additions via transfers have the Jayhawks feeling feisty about the capacity of their offensive line for a change.
Junior tackle Hakeem Adeniji (6-4, 300), who has started each of the 24 games he's played in since joining the program, will have plenty of new help up front, and the fresh assortment of blockers all have size and age working in their favor.
Since the conclusion of spring football, KU has added: senior center Alex Fontana (6-2, 300, from Houston), junior Api Mane (6-3, 327, College of San Mateo), senior guard Dwayne Wallace (6-4, 325, Cal), junior tackle Kevin Feder (6-9, 300, Ohio State) and junior Adagio Lopeti (6-4, 320, College of San Mateo).
With returning O-linemen such as redshirt sophomore Malik Clark (6-4, 320), junior Clyde McCauley III (6-5, 305), sophomore Chris Hughes (6-3, 310) and junior Andru Tovi (6-3, 320) also in the mix, KU, as of August at least, thinks the group could become an asset instead of a liability.
Defensive line
The heart and soul of the 2018 Jayhawks lives on the defensive line.
No one on the roster brings the same combination of talent and vocal leadership as redshirt senior defensive tackle Daniel Wise. Coming off a year in which he delivered 16 tackles for loss, seven sacks, five QB hurries and 53 total tackles, the 6-3, 290-pound lineman provides KU with energy on and off the field. Wise, a native of Lewisville, Texas, is a preseason All-Big 12 defender.
The supporting cast around Wise on the D-line isn't nearly as heralded. With the loss of defensive end Dorance Armstrong Jr. to the NFL a year early, the Jayhawks will need players to step up and support Wise at the point of attack.
Some candidates to do so are junior end Najee Stevens-McKenzie (6-3, 225), senior end Brian Lipscomb (6-2, 232), senior tackle J.J. Holmes (6-3, 330), junior tackle Codey Cole (6-3, 287), senior KeyShaun Simmons (6-2, 295) and end Azur Kamara (6-4, 225).
Linebackers
Similar to Wise in front of him, redshirt senior linebacker Joe Dineen enters his final fall with the team accompanied by accolades and expectations.
KU's other preseason All-Big 12 selection, the 6-2, 235-pound linebacker from Lawrence led all FBS players in solo tackles in 2017, with 7.6 per game. Dineen also recorded a new program record 25 tackles for loss as a junior.
KU's base 4-2-5 defense only deploys two linebackers. But Dineen will need one of his teammates at the position to step forward as a trusted playmaker, too, for the defense to achieve its ceiling. Some candidates to do so include seniors Keith Loneker Jr. and Osaze Ogbebor, redshirt junior Denzel Feaster and sophomores Drew Harvey and Dru Prox. Listed at linebacker, sophomore Kyron Johnson, who plays a hybrid end/linebacker position, also could factor into the game plan.
Secondary
Among KU's defensive backs, seven started at least four games in 2017, so the Jayhawks at least have some experience in the secondary, even if most of that included more setbacks than successes.
Cornerbacks such as junior Hasan Defense, senior Shak Taylor and junior Kyle Mayberry, as well as junior nickelback Bryce Torneden and safeties senior Tyrone Miller Jr. and juniors Mike Lee and Shaq Richmond expect the lessons learned and an offseason of training to put them in better spots this fall.
The coaching staff also added a number of newcomers it hopes to incorporate into an effective two-deep, headlined by four-star cornerback Corione Harris, who attended the same New Orleans high school as Lee.
KU also picked up junior college transfers at corner in juniors Elijah Jones and Elmore Hempstead Jr. and sophomore Ricky Thomas, and at safety with junior Jeremiah McCullough and sophomore Davon Ferguson.
Kicking
When it's time for extra points and field goals, KU has a valuable weapon in redshirt senior Gabriel Rui. The 5-11 kicker from Hinton, Okla., nailed all 23 of his PAT attempts in 2017, and connected on 17 of 20 field goals.
Sophomore Kyle Thompson projects as KU's new punter and sophomore Liam Jones will continue to handle kickoffs.