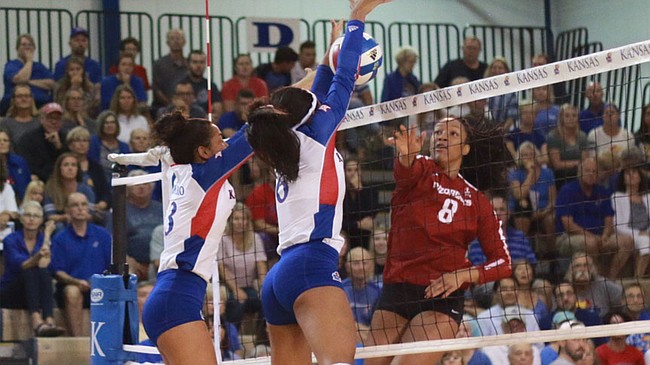 In the midst of a back-and-forth fourth set, Kansas finally had Arkansas on the heels of a true deja vu from Friday.
Down two sets to none, Kansas had claimed a 25-21 third set to force a fourth set. At set point, a ball from junior outside hitter Patricia Montero sailed out of bounds to tie the set at 24.
But the Jayhawks all had smiles on their faces.
As clear as could be on a replay, an Arkansas player had actually deflected the ball out of bounds, which would have given the Jayhawks a chance to win a match in the fifth set for the second time in opening weekend.
Kansas couldn't do anything about the call as volleyball coach Ray Bechard had already used up his three challenges. Kansas ultimately fell to Arkansas 3-1 (25-13, 26-24, 21-25, 27-25) in its 2018 home opener.
When asked what he saw on the error, Bechard actually flipped the question to the reporter who asked it.
"I didn't see anything ... I think everybody else saw something. We had some opportunities prior to that to put the game away," Bechard said.
"What did you see?"
A lackluster first set plagued the Jayhawks for the rest of the match. Swamped with a 25-13 loss, Kansas just wasn't getting its passes off.
"We were awful ... we were not good to start the first set, certainly," Bechard said.
Seemingly putting the first set in the backseat, Kansas came out with the momentum on its side. Up four points to start the match, Kansas had a six-point lead with the score at 22-16. After losing a challenge, Kansas couldn't close out the set even at a 24-21 set point.
Now facing a two-set deficit, Lacey Angello became the first freshman to wear the libero uniform as Bechard tagged her for a start at the beginning of the set. Swapping out the uniforms, Angelo finished the match with a team-high 19 digs, providing a spark to the weak Kansas passing game.
"Oh wow, she did really well for a freshman to come in and wear the other colored jersey, she seemed so confident and I really enjoyed playing next to her," Montero said.
Freshman Rachael Langs also came off the bench for two quick blocks late in the third for her freshman debut. Langs seemed comfortable on the net, with three kills on the day. Subbing out with junior Zoe Hill, walk-on freshman Audri Sutter saw a bit of playing time in the fourth set as a serving specialist.
With both teams putting everything they had on the floor, Arkansas prevailed at 24-all. Kansas scored a point off a kill by Montero to tie the match at 25, but allowed Arkansas to close out the match with a pair of kills.
Montero improved on her outing from Friday night, with 19 kills on a .217 hitting percentage. Junior outside hitter Ashley Smith was next, with 13 kills and attacking .400. Leading the team in efficiency, Hill tallied 10 kills with one error on 13 attempts. Hill continued to show consistency defensively, with a team-high five blocks.
Constantly swapping between a single and two setter system, compared to Arkansas' powerful 5-1 offense, sophomore Annika Carlson and senior Gabby Simpson had just about even chances on sets. Carlson led in assists with 27 and Simpson came next with 19. Simpson wasn't too efficient on offense, however, with just three kills on 23 swings and three errors.
Kansas (1-1) travels Friday to Lexington, Ky., for the Bluegrass Battle. The Jayhawks open with a day-night doubleheader against Dayton at 9:00 a.m. and College of Charleston at 5:30 p.m.