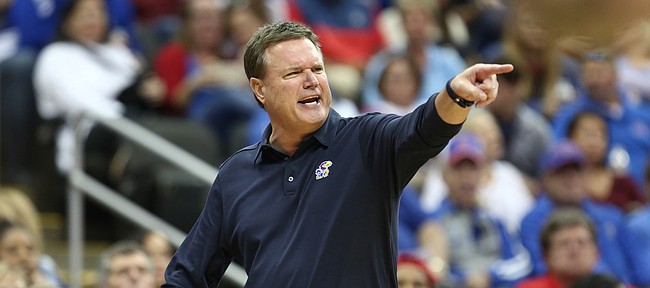 It was billed as the day Kansas basketball coach Bill Self would go "Over the Edge" and rappel down a seven-story building for charity.
Instead, the KU coach will watch staff members Kurtis Townsend and Jeremy Case scale down the 888 Lofts building in his place.
The KU basketball program on Friday announced that Self's recovery from "a minor hernia repair" would keep the KU coach from going over the edge at the Saturday fundraiser for the Boys & Girls Club of Lawrence that will begin at 9 a.m. and run until the last of the more than 60 "edgers" has made the climb down.
Former KU guard Jeff Hawkins also will participate in this weekend's event.
"There is a bit of buzz about me going Over The Edge," Self said in a statement. "Unfortunately, a minor hernia repair is going to sideline me (Saturday). The doctor says I need to wait a couple more weeks before jumping off of any buildings. I will be there to watch our guys go over."
Each participant was asked to raise at least $1,000 in order to join the event, and Self and Anna Stubblefield, deputy superintendent for the Lawrence school district, upped their game to hoping to raise $10,000 apiece.
Although he will not be participating in the event, Self will still come through on his financial commitment.
"Boys & Girls Club is a great organization and we want to be out there to support the kids," he added in the release. "(Wife) Cindy and I are big fans of Boys & Girls Club and we will certainly make good on our fundraising goal."