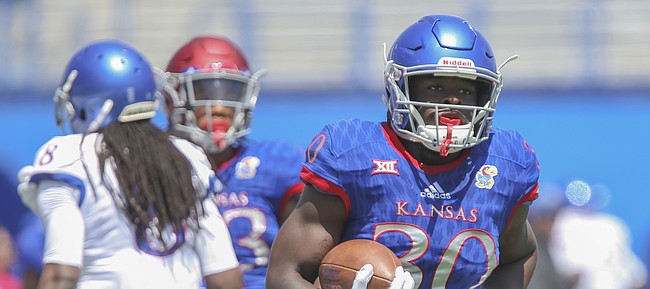 Ahead of preseason camp, Kansas football coach David Beaty and his staff planned on giving walk-on running back Kezelee Flomo a scholarship.
When the team's medical staff discovered Flomo, a transfer from North Dakota School of Science, had a heart condition, though, the 5-foot-10, 215-pound would-be senior had to retire.
Even so, Flomo remains involved in a student-coach capacity, and the program announced Wednesday the former running back will indeed be awarded a scholarship.
In 2014, Flomo rushed for 1,857 yards and 23 touchdowns as a high school senior at Totino Grace, in Fridley, Minn. He learned about his scholarship during a KU team meeting on Tuesday, when Beaty surprised Flomo with the news. KU released a video of the announcement on Twitter the following day.
Podcast episode
With the 2018 Kansas football season 10 days away, we know who will start at quarterback in the season opener, but plenty of unknowns exist. KU football beat writer Benton Smith is joined by Tom Keegan, Matt Tait and Shane Jackson for a discussion on what awaits the Jayhawks — ...
"In high school, I always wanted to play Division I. I wasn't blessed with that," Flomo said in KU's video, explaining when he didn't receive any scholarship offers after his time at N.D. School of Science either, he opted to enroll at KU, planning to "just go to school."
He arrived in Lawrence for the spring 2017 semester and changed his mind, landing a spot as a walk-on through a tryout.
"The coaches gave me a shot, which is," Flomo began, shaking his head and pausing, "I can't even thank them enough for that, you know what I mean?"
The newly retired running back, now 22, explained why he wanted to stick around the program after losing his chance to contribute as a player.
"I gave it my all and I was set back with this heart injury. And that didn't really stop me," Flomo said. "I was going to be out here with my boys, out here with my teammates, and I love them. I'm ride or die with them no matter what, no matter what obstacles might come my way."
Earlier this month, when Beaty announced Flomo had to give up playing, the coach described the back known for his power as "a guy we really needed" who continued to help the team.
"He works just as hard (at coaching) as he does playing," Beaty said. "Feel sick for us, but for him, as well. He has not changed the way he approaches it."
Since transitioning to the coaching phase of his football career, Flomo has worked with KU's running backs, aiding position coach Tony Hull.