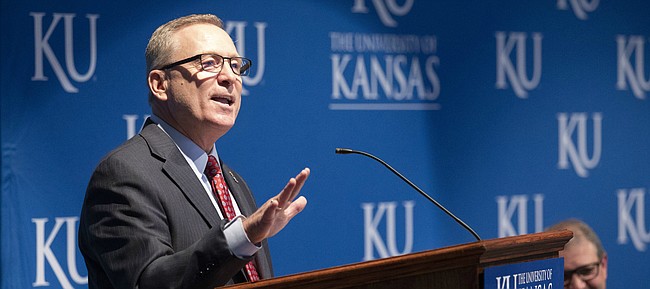 Since taking over as athletic director at the University of Kansas on Aug. 1, Jeff Long has spent some of his time getting to know football coach David Beaty.
While Long addressed Beaty's team on the first day of preseason camp and has been able to stop by at practice since, the new AD also has attended a pair of pep rallies with KU's fourth-year head coach, ahead of the Sept. 1 season opener.
Asked what he has learned about Beaty the past couple of weeks, Long began by calling him "just a quality person," before sharing some other perceived characteristics.
"He cares about these young people deeply, is committed to win for Kansas and is just doing everything he can to be successful," Long said of Beaty, adding he sensed those qualities through observations of and interactions with the coaching staff, as well as the players.
Having served as a featured speaker at two KU Kickoff events with Beaty, Long also was asked whether those settings helped him view the coach in a different light.
Long acknowledged it had, then turned the conversation to the KU fans with whom he has spoken.
"To me, that's the exciting part. Meeting people and sensing and feeling their love for the institution, their belief and hope for our football program," Long said. "It's been great. It's energizing for me. I'm in that little office of mine from 6:45, 7 o'clock (in the morning) to whenever. And when you're in that hole trying to catch up, it's great. We've got students back on campus now — that gives you energy. And then, coming out to these crowds gives you energy."
Extended Field Goal Club access
Kansas Athletics announced this week the Field Goal Club in the north end zone of David Booth Kansas Memorial Stadium will be accessible for all Williams Education Fund members this season.
The club area, new to the venue a year ago, used to require a purchased membership.
KU now will provide each WEF account with two club access tickets per game, and operate the area on a first-come, first-served basis.
The Field Goal Club will open one and a half hours prior to kickoff of each KU football home game, with food and beverage service — including beer, wine and spirits — ending at the conclusion of the third quarter.
"We are pleased about this added fan amenity for our Williams Education Fund members," Long stated in a KU release. "As we work to solidify our vision for David Booth Kansas Memorial Stadium, the fan experience and the ability to provide a variety of fan amenities will be a top priority." 
Williams Fund members may purchase up to four additional season passes at $10 each. Additional passes may only be purchased prior to each game day. The Field Goal Club ticket does not provide admission to the stadium.
'Hawk Talk' change-up
Beaty's weekly radio show, "Hawk Talk," will have a new home this season, as it moves to Johnny's Tavern, in West Lawrence.
The first hourlong show of the season starts at 7 p.m. this coming Monday. Fans can attend every broadcast at the restaurant. Each show begins at 7 on Monday nights, with the exception of Nov. 13, which is a Tuesday.
"Hawk Talk" can be heard around the state of Kansas on Jayhawk IMG Radio Network affiliates and via KUAthletics.com, which will also feature a live audio stream of the show.