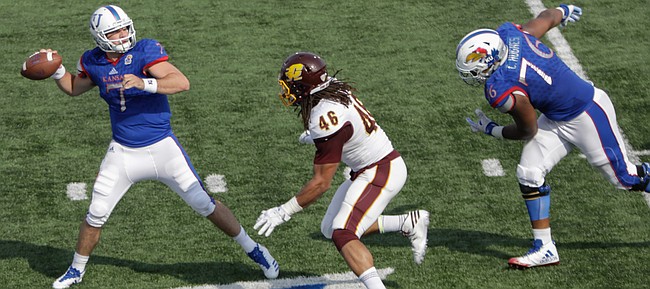 The Kansas football team has its starting quarterback for the 2018 opener.
Two and a half weeks into preseason camp, head coach David Beaty landed on Peyton Bender as the Jayhawks' No. 1 QB for Week 1, the team announced Tuesday afternoon.
The three-man competition for the job, which began in the spring, with the arrival of sophomore transfer Miles Kendrick (College of San Mateo), officially concluded a little less than two weeks before KU's Sept. 1 season opener against Nicholls State.
Bender, a senior from Fort Lauderdale, Fla., who also opened the 2017 season as the program's starting QB, beat out both Kendrick and KU's other returning starter, redshirt junior Carter Stanley.
Beaty, who did not comment on the decision, which was announced via Twitter on the program's account, pointed this past week to the team's Saturday scrimmage, the second of the preseason, as a "telltale" stage in the battle for the most visible position on the roster.
The head coach isn't scheduled to answer any questions on the matter until Monday.
Bender, days ahead of winning the job, said he tried to treat every practice as a big evaluation period.
"At the end of the day, I can't decide who's going to be the starter, so I just try and control what I can control and go out there and compete as hard as I can when I get my opportunity," Bender said.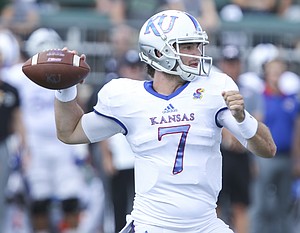 Beaty, KU's fourth-year head coach, stressed that the QB who landed the top spot on the depth chart would be the one who gave the team "the best chance to win" and showed through camp practices that he could take care of the football.
In his first season at Kansas, upon transferring from Itawamba Community College (Miss.), Bender started eight games in 2017, completing 54.2 percent of his 273 passes for 1,609 yards, with 10 touchdowns and 10 interceptions.
KU's 6-foot-1, 205-pound starting QB, who began his college career at Washington State with one redshirt season and a second year spent as a backup and fill-in starter, said earlier this month one of his biggest areas of focus this offseason was reading and reacting correctly to defensive coverages.
Offensive coordinator and quarterbacks coach Doug Meacham said Bender, like most Air Raid QBs, has to make a quick read at the line of scrimmage and process his cues just as rapidly.
"Is it zone or is it man?" Meacham said of the first step in that process. "And then you just go through a triangle of 1-2-3. 'Is he open?' No. 'Is he?' No. 'Throw it to that guy.' That's kind of how they do it."
Meacham, who took over as QBs coach ahead of the spring semester, thinks Bender will be "safer" with the ball as a senior, in part, due to his studying.
In 2017, Bender threw 10 of KU's 17 interceptions.
"If you look at the film, eight or nine of them were tipped balls," Meacham said. "I don't know if we ever had one tipped that hit the ground. I think the other team caught every one of them. Hopefully, that's all behind us."
Throughout preseason reps, Bender thought he and the other QBs in the mix reaped the rewards of approaching the competition with a carefully chosen mindset.
"Try to have a short memory, stay positive, no negativity. That's been real beneficial to us this camp," Bender said. "Mistakes are going to happen. It's football."
Before playing in Saturday's scrimmage, Bender described how he planned on approaching the 11-on-11 practice that proved to solidify his spot as KU's Week 1 starting QB.
"The scrimmages give you the closest thing to a game-like atmosphere, so you definitely want to bring your A game for the scrimmage. But I'm just going to continue to go out there and do what I've been doing," Bender said. "Just try and communicate clearly to the offensive unit and do my job and just get the ball where it needs to go."
Stanley, a 6-2, 198-pound QB from Vero Beach, Fla., started four games in 2017 before missing the finale due to injury. Playing in nine games overall, he connected on 54.6 percent of his 185 throws for 1,108 yards, with four TD passes and seven picks.
Kendrick, a 5-foot-10, 200-pound dual-threat QB from Morgan Hill, Calif., started nine games, and passed for 1,889 yards, 18 touchdowns and nine picks, while rushing for 417 yards and five TDs at College of San Mateo (Calif.), as a true freshman in 2017.