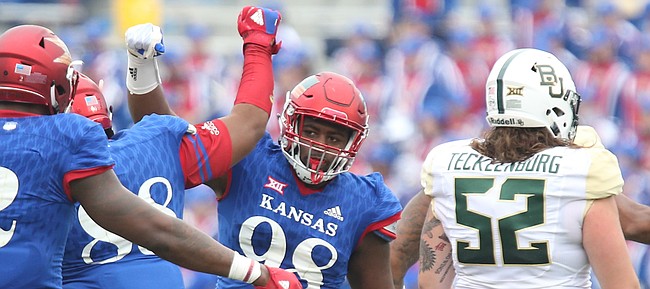 Popular opinion might state that most of the Kansas football team's defensive linemen are unproven.
The foremost member of the position group happens to see it differently.
"Some of the guys, I think, are proven but have to be more consistent," redshirt senior defensive tackle and team leader Daniel Wise said.
Wise, a preseason All-Big 12 selection, has 30 starts behind him. His 16 tackles for loss, seven sacks, five quarterback hurries and 53 total tackles in 2017 make him a respected and feared defender around the conference — one that opposing offensive coordinators will strategize to try and stop.
Outside of Wise, senior tackle J.J. Holmes qualifies as the most experienced returning D-lineman, with 11 starts a year ago, his first season at KU after transferring from Hutchinson Community College. Holmes made 2.0 tackles for loss, one sack and 24 total tackles in 2017.
Wise said Holmes and other returning members of the defensive front have learned this past spring and during preseason practices that they have to find more ways to impact the game.
"Sometimes, you have to do your job, get off and make a play, do a little bit more. Sometimes, they did their job and that was it," Wise said of how those with experience might have approached their responsibilities in the past.
According to the star of the group, Wise has seen different versions of Holmes (6-foot-3, 330 pounds) and senior KeyShaun Simmons (6–2, 295) of late. Looking back at this past season, Wise said Holmes kept his opposing blocker occupied with consistency.
"But now, he's doing a little bit extra: clogging the middle, getting off and making that big play we need from him in the backfield," Wise said of Holmes' practice performances.
Simmons, who made two starts in 2017, also has "stepped up," per Wise.
"He's doing his job and more," the D-line's dynamic leader added. "It's something we continue to preach for those guys."
Redshirt senior Isi Holani also possesses some Big 12 experience, having played in all but one game for KU in 2016 and starting two. However, the 6-3, 325-pound tackle who missed 10 games due to injury in 2017 was not one of the many mentioned by David Beaty this past week when the head coach began rattling off names of players who had stood out among D-line coach Jesse Williams' group.
During preseason practices, Beaty said, junior defensive end Azur Kamara, a transfer from Arizona Western College, caught his attention.
"Long. He really looks a lot bodywise like Dorance (Armstrong)," Beaty said of Kamara, a 6-4, 225-pound rusher who amassed 12.5 sacks as a juco sophomore. "He's not quite as thick as (Armstrong, a fourth-round pick of the Dallas Cowboys this year) yet, but long arms. I like him. He's got a motor. He's really good."
KU's fourth-year head coach also pointed to the preseason play of junior defensive tackle Codey Cole, a 6-3, 287-pound transfer from Butler C.C.
"I didn't realize he has as good of hands as he has," Beaty said of Cole. "He's been fighting a little injury, but he continues to get back in there, which shows me he's got some toughness to him."
Adding that "a number of new guys" have impressed on the D-line, Beaty mentioned: ends Jelani Brown (6-2, 297 junior from College of San Mateo), Brian Lipscomb (6-2, 232 senior from Virginia Military Institute), Najee Stevens-McKenzie (6-3, 225 junior from ASA College), Darrius Moragne (6-7, 265 junior from Arizona Western), Willie McCaleb (6-2, 240 redshirt junior who missed 2017 season at KU due to injury), Vaughn Taylor Jr. (6-3, 248 sophomore) and tackle Sam Burt (6-4, 272 sophomore).
"I think Coach Williams has done a really good job of making sure that we create depth there," Beaty said.
Plus, while sophomore Kyron Johnson is listed at linebacker, he plays a hybrid linebacker/end position, same as Stevens-McKenzie.
"He's got a lot more toys on the side of the ball right now," Beaty said of Williams' defensive linemen.