Catch, drop, kick. Those three phases to a successful punt need to come in the right order.
Kansas punter Kyle Thompson earned a full scholarship out of high school based on the strength of his foot, but struggled to execute the three phases of punting in the right order during practice.
Too often, it wasn't catch, drop, kick. It was drop, no kick, oh boy!
An unintentional drop came first, which prevented the intentional drop and kick from happening.
A punter can't drop (intentionally) what he can't catch.
"It was a big adjustment when I first came in, getting it off quick, in two seconds," Thompson said. "We're in a big conference, so there are going to be athletes, skills players, who run 4.3, 4.4, trying to stop the ball."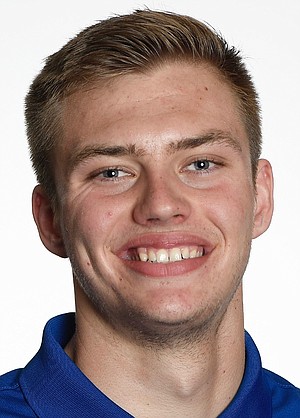 Hurrying led to difficulty catching the snaps cleanly.
"I definitely did have trouble with that," Thompson said. "I'd I'd be lying to you if I said I didn't, especially my freshman season, and a little bit last season too."
The JUGS Football Machine, according to its marketing material, throws perfect passes, punts and kickoffs to any spot on your field.
Thompson found it helpful.
"The biggest thing I worked on in the offseason was catching them on the JUGS every day, five days a week," Thompson said. "That's one thing I've improved tremendously, just being able to catch the ball and get it off quickly."
Before using the JUGS, Thompson sought the counsel of teammates for tips on how to address his troubles with the first step, the one most taken for granted, in executing a successful punt.
"I asked a few wide receivers on my team if they could help me with hand-eye coordination," Thompson said.
It was not the least bit surprising to hear the name of the player he found to be most helpful.
"I went up to Jeremiah Booker last January and told him what I needed help on and he showed me a few things I could do," Thompson said. "He's a tremendous guy, a great teammate. He's been a tremendous role model to follow."
Thompson shared Booker's first suggestion.
"He told me to get a few tennis balls and start juggling them against the wall," Thompson said. "So the first step to improve hand-eye coordination was to throw tennis balls against the wall and go side to side and catch them. Then I'd have another guy with me and go back and forth with tennis balls and after that I started with the Jugs."
Heading into this fall camp, Thompson made not dropping a single snap one of his goals.
A native of San Diego, Thompson spent his first season at Kansas as a redshirt, but that doesn't mean it was a stress-free year.
"There was a lot of pressure on me, especially from the middle to the end of the season," he said. "I was told not to drop it and therefore I would drop it in practice and of course I got chewed out from it and I didn't handle it very well. But I handle it much better now."
He's a redshirt sophomore now.
"I let it get to me. I was a freshman and like a lot of freshmen I had that mentality where I had to toughen up," Thompson said. "I've definitely toughened up quite a bit from it."
Thompson called the second phase of the punt, the ball drop, "probably the most important thing as a punter. A lot of people probably don't even think of that. I probably do 50 ball drops a day, sometimes more. You have to do it every day to be consistent."
He demonstrated without having a football as a prop how to execute a good ball drop.
"This is the guide hand, on the side," he said, holding up his left hand. "This hand (right) is where you follow through so that it drops. If the ball is flat to the ground and bounces up, that's a good ball drop."
A bad one: "If the nose is down and it bounces forward or bounces backward. That would lead to a shank punt or not a very good punt. The biggest thing for my position is consistency, hitting the same ball every time."
The easiest phase is the last, he said.
"The leg should at this point be kind of second-nature because I've been doing this since freshman year in high school," he said. "As long as you've got the ball drop in place, the leg should come naturally."
A special teams analyst tracks hang time daily in practice on a stopwatch, he said.
"Average would be a 4.3 (seconds) or a 4.4 hang time," Thompson said. "Anything below a 4, depending on the location, can be scary just because the conference we're in there are a lot of fast players back on punt return. If you get a 4.5 and above every time, that's a really good college punter. NFL punters get 4.6, 4.7 average."
Thompson punted four times, including three in the season finale at Oklahoma State, during his redshirt freshman season. He averaged 35.67 yards per punt and his net average was the same because none of the kicks were returned. He said his first punt, at Oklahoma, had a hang time of 4.69. It went 40 yards and ended in a fair catch.
"I remember the adrenaline from that first punt," he said. "It felt like a blur. I saw myself on film. The drop was good. The leg extension was up. I would say the adrenaline definitely helps."
So clean catch, flat ball drop, extend the leg. Anything else?
"Every punt should be angled," Thompson said. "If you punt down the middle of the field, it could be housed."
If Thompson wins the job, he'll replace Cole Moos, who averaged 41.4 yards a punt as a junior, 39.6 as a senior.
Moos did good work. The only problem with him in the eyes of the loyal Kansas football fans was that they saw entirely too much of him, thanks to the struggles of the offense.
Moos punted 83 times last season, tied for second-most in KU history. For reasons that have nothing to do with him and everything to do with the offense, nobody wants to see nearly that much of Thompson this fall.