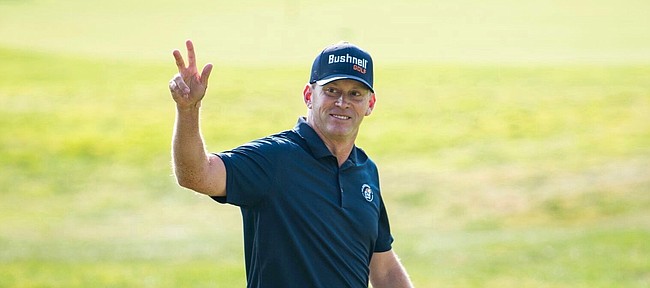 Nineteen years after turning pro, Chris Thompson finally has made it to the big leagues.
Thompson, 42, was one of 25 Web.com Tour golfers presented with PGA Tour cards for the 2018-19 season Sunday night.
Photo Gallery
Chris Thompson at WinCo Foods Portland Open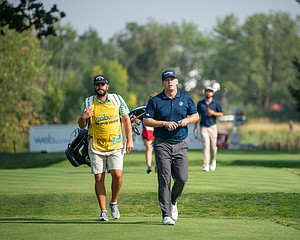 Chris Thompson at WinCo Foods Portland Open, Sunday, Aug. 19, 2018.
A native of Independence, Thompson finished 20th on the final money list with $181,738. He shot a 1-under 70 Sunday to finish at 7 under in a 10-way tie for 24th in the WinCo Foods Portland Open at the Witch Hollow Course at Pumpkin Ridge Golf Club.
Sungjae Im, who won the first Web.com tournament of the regular season, also won the last. He was No. 1 on the money list for all 22 weeks, finishing with $534,326. Im, from South Korea, was born in 1998. Thompson turned pro in 1999, after finishing a KU career during which he twice was named All-American.
A longtime member at Lawrence Country Club, Thompson resides in Lawrence with his wife, Jessica, and their son Henry, 10, and daughter Landry, 7.
Thompson earning his tour card means it's possible that three of late KU golf coach Ross Randall's players will compete against each other in one or more PGA Tour events next season, with Thompson and Ryan Vermeer, 40, joining tour veteran Gary Woodland, 34. Vermeer is playing in six events, three known as "opposite field" tournaments, which take place the same week as bigger events in which Woodland will compete.
"That would be fun, wouldn't it?" Thompson said.
Might the tournament director put them in the same group for the first two days?
"I don't know about that," Thompson said. "They'll probably have Gary playing in a featured group and Verm and I will be in the last group, taking in the pins."
Thompson first qualified for the Web.com Tour (then called Nationwide Tour) in 2007, but didn't do well enough to retain his card. He finished on the wrong side of multiple close calls in an attempt to get back on tour, and then did well enough at this past Q school to gain exempt status for the first eight tournaments of the Web.com season. He earned enough money in those to set himself up for the full Web.com schedule.
During the gap between his two seasons on the Web.com tour, Thompson had to try to make his way into tournaments via Monday qualifiers, which was his path to his first PGA Tour event, the Byron Nelson in 2014. Riding a hot putter, he made the cut and then faded the final two days. He also qualified for the U.S. Open that year at Pinehurst No. 2, but didn't make the cut. His results on mini-tours, such as the Prairie Tour, the Adams Tour and the eGolf Professional Tour (aka Tar Heel Tour), were encouraging enough for him to keep him chasing the dream he realized through strong play in the late stages of this Web.com Tour season.
Heading into the Wichita Open in mid-June, Thompson was ranked 60th on the money list. Chevy Hartzog, 25, a former college golfer and assistant coach from South Carolina, became Thompson's permanent caddie starting with that tournament, and Thompson credited him with doing an exceptional job reading putts for him.
Thompson's late charge to a PGA Tour card included three consecutive finishes in the top four heading into the final tournament of the regular season.
"Confidence breeds confidence," Thompson said of the best stretch of his career.