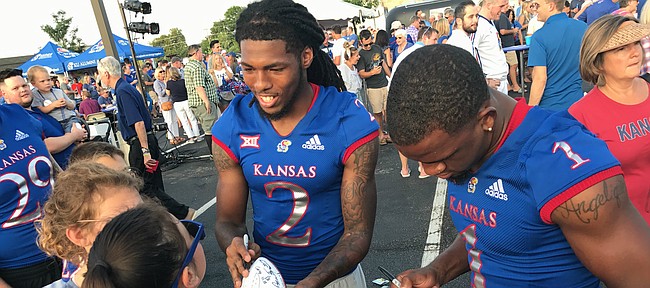 When two small buses filled with Kansas football players pulled into the Corinth Square parking lot in Prairie Village Friday night for the athletic department's KU Kickoff event, freshman Corione Harris was the first to leap out.
The smiling cornerback from New Orleans didn't pause to find his bearings or wait to follow the lead of a veteran Jayhawk. Harris made a beeline for the crowd, eager to interact with fans and sign autographs at the pep rally.
Both Harris and fellow Louisiana native and freshman Pooka Williams, the two four-star standouts from KU's 2018 recruiting class, proved to be a couple of the most popular players at the fan-friendly event.
From posing for photos to shaking hands and introducing themselves to the Kansas City area supporters, the touted freshmen basked in all the party had to offer.
"(Harris) and Pooka, their personalities are infectious," head coach David Beaty said of their ability to dive headfirst into mingling with the program's backers. "They really do love everything about KU. That's why they wanted to come here. They fell in love with the place, they fell in love with the people."
At one point not long after arriving at the rally, their coach said the two of them just ran up to Beaty quickly to thank him for choosing them as two of the team's 21 player representatives for the night.
"It is so much different from what they came from," Beaty said of why he thought the freshmen so thoroughly embraced the whole scene. "They just haven't gotten to experience a lot like that and they appreciate it, which is refreshing."
Harris and Williams, like all freshmen in the program, aren't made available for interviews. They are by far the two most hyped prospects to join KU this year, and due to their high standing in national recruiting rankings — Rivals had Williams 178th in the country and Harris 105th — they enter the season with many more eyes on them than your average KU football freshman any given year.
Beaty thinks their general outlook toward everything they do should help alleviate pressure and better set them up to succeed.
"They are not afraid to compete," KU's fourth-year coach said. "They have a lot of confidence in their abilities but they also are very personable guys."
According to Beaty, he associates them most with their love for football.
"If this game got taken away from them, it would be hard on them. It doesn't happen that way for everybody, but for them you can see the love," Beaty said. "They don't leave (KU's football facility). When other people do, they don't. They love being there. And it's refreshing."