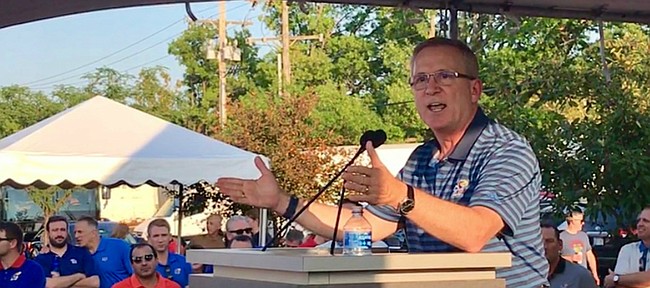 Prairie Village — As more than 20 University of Kansas football players and head coach David Beaty began mingling with fans Friday night at the athletic department's 13th annual KU Kickoff at Corinth Square, new athletic director Jeff Long outlined a few of the ways he hopes to help the long struggling program head toward recovery.
Bringing Mike Vollmar, a former associate athletic director for football at Alabama and Michigan, on this week as KU's senior associate AD for football administration, Long told reporters, has helped him in that process.
"Mike is just a great professional with great experiences," Long, a former AD at Arkansas and Pitt said, "and he and I have seen programs that have the things in place that help them win. We're really just assessing things, looking at things. We're doing little things."
Upon starting at KU on Aug. 1, Long quickly wanted to hire Vollmar, in order to have someone who could be around football practices, meetings and even meals — the type of focused observance the AD simply did not have time for with all his other responsibilities.
Some changes are smaller and less notable, but Long said one decision they reached was to move the Jayhawk statue at the back of Anderson Family Football Complex, the one players rub when they enter or exit the locker room while making their way to or from the stadium or practice fields, and relocating it to the front of the complex.
"It's a really cool piece," Long explained of the tweak, "and we want fans and student-athletes to see that every day when they're coming in the building, because that's what they represent, the Jayhawks."
Vollmar, Long added will do other "little things" around the football facilities to make sure the environment is better for student-athletes.
"That's why we're here," Long said. "Those players are working so hard to win."
The new AD also not so subtly brought up the subject of football victories while addressing fans at the rally geared toward KU supporters in the Kansas City metro area.
Long told the crowd he can tell the coaches and players are committed to "breaking the cycle" and getting KU back to a bowl game — an achievement the Jayhawks haven't pulled off since the 2008 season.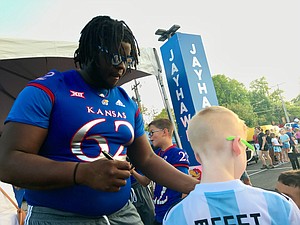 The university, Long went into further detail off the stage, needs the football program succeeding for obvious reasons. That's why he wanted to show a commitment to changing it for the better by putting someone with Vollmar's background — he recently spent four years overseeing University of Tennessee football as a senior associate athletic director — in place.
If turned around, Long said KU football should generate more revenue than any other team on campus.
"So we need to invest in our biggest engine so to speak. Right now men's basketball is that engine for us, so we're really fortunate there, because they are a great economic engine for us," Long said. "If we can bring football along we will have the best of both worlds. And I am one of those who believe you can be successful in both football and basketball. They are not mutually exclusive, and I believe that and we are working really hard to make sure we can bring football up to that level."
Vollmar will monitor all aspects of the football program, Long shared, and assist Beaty and his staff to some extent.
"But Mike's more at a 30,000-foot (view), trying to help see things in advance," Long said, "and get things corrected and more smoothed out before we get to that point."
Along the way, the new AD plans to remain in constant communication with Vollmar, to keep up with everything going on with the football team.
"I thought I had energy. Mike's got tons of energy," Long said. "We're talking throughout the day, visiting, texting. We're in sync and we're in conversation. Plus he's new like me. We're learning the systems of Kansas, how to get things done, who to see where. So we're both kind of leaning on each other and leaning on the great staff that's already here."
Adidas update
Kansas Athletics' still unsigned multimillion-dollar extension with Adidas, Long revealed Friday evening, is in the process of being evaluated.
The AD said the apparel contract — valued at $191 million over 14 years — has been the subject of conversation during meetings he has had with chancellor Douglas Girod and other key members of the university.
"We're working through that. We're very optimistic that we'll finalize everything soon," Long added of the deal, which was first announced in September of 2017.
Adidas came under fire late last year when the company's head of global sports marketing, James Gatto, was indicted on a federal wire charge in a scandal tied to steering basketball recruits to schools with Adidas contracts.
KU's current deal with Adidas expires in July of 2019.
Long repeated he is "very optimistic" KU will be able to officially extend the contract.
"Once we finalize," he said, "then we will move forward with a new agreement."
Jayhawks meet fans
KU brought 21 of its football players to Corinth Square for the Friday night pep rally.
The Jayhawks spoke with fans, signed autographs and some even danced along with children to the music playing at the shopping center.
Beaty said he wanted to bring a lot of players who will be new to the fan base this coming season.
In attendance were: running backs Pooka Williams, Khalil Herbert and Dom Williams, cornerbacks Corione Harris, Elmore Hempstead Jr. and Elijah Jones, receiver Evan Fairs, safeties Jeremiah McCullough and Davon Ferguson, tight ends Mavin Saunders and James Sosinski, offensive linemen Dwayne Wallace, Kevin Feder, Api Mane and Nick Williams, kicker Gabriel Rui, defensive ends Najee Stevens-McKenzie, Azur Kamara and Darrius Moragne, and linebackers Joe Dineen and Kyron Johnson.