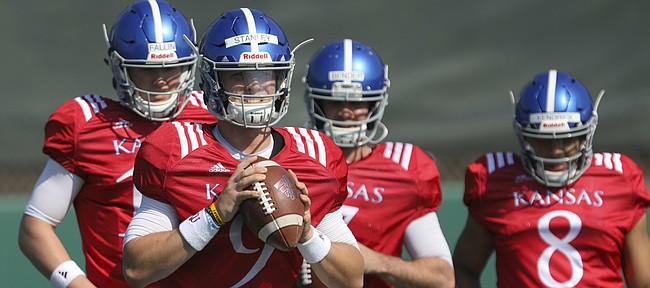 Twelve practices into the Kansas football team's preseason camp, head coach David Beaty has not yet seen enough to decide upon a starting quarterback.
However, Beaty indicated at his weekly press conference Thursday the moment of truth should be right around the corner.
"I love the competition that we have going right now," Beaty said. "This weekend is our second big scrimmage, and we need that scrimmage. We need it. We need one more look at them to be able to kind of have a good idea."
The Saturday scrimmage will come two weeks before KU's Sept. 1 season opener against Nicholls State, and one week after the initial preseason scrimmage, during which Beaty and his staff got extended looks at quarterbacks Peyton Bender, Carter Stanley and Miles Kendrick.
Beaty stated in July the plan was to narrow the QB race to two quickly at camp and shortly thereafter identify the starter. He expects to "probably" be "good to go" on reaching a decision following the second scrimmage.
"This weekend's going to be kind of a telltale for us," Beaty said. "We're not at the point where we're ready to name it yet. But there's been some separation. If I had to make a choice today, I kind of know where I'd go."
According to Beaty, he doesn't want to rush a pronouncement "just to make it," because the coaches would like to be as convinced as possible before choosing the candidate who ends up atop the depth chart.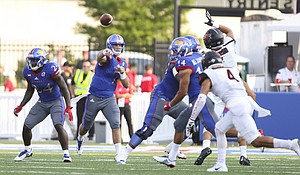 "We have to give ourselves the best chance to win," Beaty said. "Our fans deserve the best guy behind center being able to take care of the ball."
Asked if the number of QBs being considered for the starting gig at this juncture was two or three, Beaty offered a "no comment."
The fourth-year KU coach went on to stress that the next three or four days, to him, are the most important ones in camp.
"A lot of people do well early. A lot of people can string along for four, five days. But, man, when you get in the dog days, 12, 13, 14 practices, then we get to see who you really are," Beaty said. "So these are going to be big days: (Friday), Saturday, Sunday are going to be critical for those guys. It's the next phase of evaluation."
If the quarterbacks know, through what has transpired at closed practices, that some natural separation has eliminated one of them from the competition or put one quarterback ahead of the other two, they made sure not to indicate as much while fielding questions from reporters Thursday afternoon.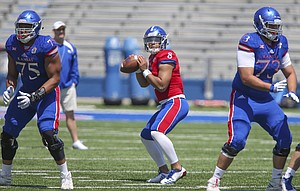 "I don't know," Bender replied, when asked if he sensed some differentiation. "I just go out there and try to focus on myself and focus on trying to get the offensive unit better whenever I get my opportunity to play."
Kendrick, too, hesitated to answer the same question directly.
"Maybe guys outside of the quarterback room, other teammates, maybe they sense who they feel is separating or who they want to go on that field with," Kendrick said. "But as a group, we all want to do our job as best we can every day and be the best leaders that we can."
All three QBs downplayed the pressure to perform at a higher level over the course of the next few days, as the competition apparently heads toward a conclusion.
But they know Beaty said he needed to see how the second camp scrimmage plays out before anything is finalized.
"The first scrimmage was good," Stanley said, "just to see all 11 guys out there on the field at once, moving the ball down. For the offense, I thought we had some great drives. I think this one coming up on Saturday will for sure be big."