Eight days after Jacobi Lott suffered an undisclosed injury at Kansas football practice that required him to leave in an ambulance, head coach David Beaty could not provide Thursday a detailed update on the freshman offensive lineman's status.
Lott, Beaty said, has not yet been able to return to football activities.
"I can't say much," Beaty began during his weekly press conference, "but he is still under evaluation with our doctors, and his doctors, as well. I will let you know when I can. I don't have any other updates other than he's stable, and he's not in a situation where it would be dire. He's in good position there."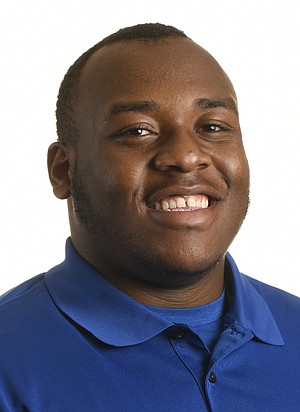 Around the midway point of KU's Aug. 8 practice, Lott experienced a form of trauma deemed a code red by paramedics who arrived on the scene.
Since then the 6-foot-4, 309-pound lineman from Amarillo, Texas, was able to leave the hospital and has remained in town with members of his family.
"They're still running some tests that take a couple of weeks to get finished," Beaty shared regarding Lott's longterm football prognosis. "We should know a little bit more in a few days."
KU's coach said Lott has been able to be up on his feet and walking, and has visited Anderson Family Football Complex with his family over the past week.
"We're still in that evaluation mode," Beaty reiterated. "We just want to make sure. Just want to make totally sure."