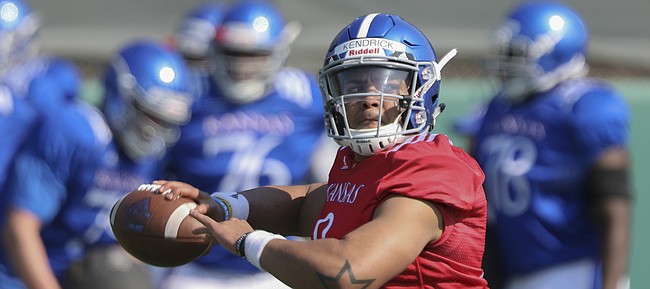 Three and out after three and out. The quarterback seeing stars, but not open stars slipping behind the secondary, stars in his eyes from getting slammed to the turf yet again. Bubble screens bursting, blown up by a lack of blocking, the ball floating in the air too long or both.
Those are the lasting memories of the Kansas football offense in recent seasons. KU's scoring offense ranked 123rd of 128 FBS schools with 15.3 points per game in 2015, 120th of 128 in 2016 (20.3) and 120th of 130 in 2017 (18.7).
Stop me if you've heard this before, but there is reason to believe this season's offense can be better both at grinding out first downs and at producing explosive plays.
But that only will be the case if four or five newcomers can play significant roles and upgrade their positions.
A look at five key offensive newcomers whose work could result in the Kansas offense generating, dare I say it, excitement, a victory on the road and a 3-0 start:
1. Miles Kendrick, quarterback: He spent one semester in junior college and his winning ways were enough to convince the Kansas coaching staff to offer the dual threat a scholarship before any other school did.
As a runner, Kendrick is strong and shifty. As a leader, he's strong, direct and energetic. As a candidate for the starting job, he represents hope that the recent tradition of short quarterbacks beating out taller ones and upgrading the position continues. Think: Bill Whittemore, Jason Swanson, Todd Reesing.
A serious running threat at quarterback gives the defense one more helmet about which to worry, opening opportunities for the running backs.
"I love getting involved with the running game, for sure," Kendrick said. "I feel like I can make every throw, every throw in the playbook, I've always taken pride in that."
2. Pooka Williams, running back: The explosive freshman running back from Louisiana has teammates buzzing already.
Running backs coach Tony Hull, the man who recruited Williams to Kansas, is trying to remain low key about him, but it's difficult.
"Be ready," Hull said. "Be ready. Beeee ready. We just have to make sure we don't put too much on him at one time, which we haven't. He's smart. He's a very smart football player. He'll be something special."
3. Alex Fontana, center: He played two years at junior college, one at Houston and missed last season with an injury. His presence eases the blow of concussions forcing Mesa Ribordy into early retirement.
"Obviously, he's a good player, but all his other intangibles and assets he brings to our room, with his maturity and work ethic and all that, has been huge," offensive line coach A.J. Ricker said. "Other guys feed off that because this is a guy who has done it at other places."
4. Dwayne Wallace, right guard: Offered scholarships by Arkansas, Kansas State, Louisville, UCF and others out of junior college, he chose California and started nine games there last season and was listed No. 1 at right guard on Cal's postspring depth chart. Then, without any public explanation as to why from the player or the school, Wallace headed to Kansas as a graduate transfer. At 6-foot-4 and 325 pounds, he has a chance to blow open holes for KU's talented stable of running backs.
5. Kevin Feder, right tackle: Maybe it's a reach to think that a player who never made it onto the depth chart at Ohio State can instantly become a difference maker at Kansas. Or maybe the foot injury that prevented him from getting cleared until last season has healed and he's fresh and ready to make up for lost time.