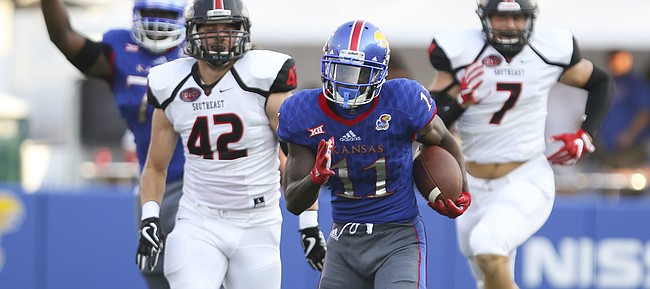 The most experienced and prolific skill player on the Kansas football roster entering this season, Steven Sims Jr. expects the Jayhawks to show significant progress offensively in the months ahead.
Those who follow college football foresee Sims, a senior receiver, playing a starring role regardless.
Sims' name appeared Tuesday on the 2018 Earl Campbell Tyler Rose Award watch list. The award goes to the top offensive player in Division I football who also hails from Texas and exhibits characteristics said to define Hall of Fame running back Earl Campbell: integrity, performance, teamwork, sportsmanship, drive, community and tenacity; specifically, tenacity to persist and determination to overcome adversity and injury in pursuit of reaching goals.
The Texas-centric criteria states candidates must be born in Texas and/or graduated from a Texas high school and/or played at a Texas-based junior college or four-year college. 
A Houston native, Sims graduated from Travis High after making 64 receptions for 923 yards and 14 TDs as a senior, in 2014.
This past season at KU, Sims played through some nagging injuries, but still led the team by large margins with 59 receptions, 839 receiving yards and six touchdowns.
"I'm definitely excited about the potential of our offense," Sims said recently. "We have high-power players on our team, and we all just have to stay healthy and pay attention to every single detail and I feel like we'll be successful."
Sims heads into the 2018 season ranked fifth in career receiving yards at KU, with 2,049. Earlier this summer he made the watch list for the Biletnikoff Award, which goes to the most outstanding pass-catcher in FBS.
The 5-foot-10, 176-pound wideout was one of 47 players on the Earl Campbell Tyler Rose Award watch list.
Eight others were also from the Big 12: receivers Denzel Mims (Baylor), Hakeem Butler (Iowa State), CeeDee Lamb (Oklahoma), Jalen Reagor (TCU), Collin Johnson (Texas) and T.J. Vasher (Texas Tech), and running backs Rodney Anderson (Oklahoma) and Darius Anderson (TCU).
Four of the five previous winners have come from the Big 12, with quarterback Baker Mayfield (Oklahoma) being the most recent recipient of the award, in 2017.
Identifying KU's punter
When KU began preseason camp just less than two weeks ago, the general consensus around Anderson Family Football Complex was that Kyle Thompson would be the top punter on special teams.
Head coach David Beaty indicated Thompson, a sophomore from El Cajon, Calif., hasn't done anything to change their minds.
But the coach said KU also brought in a transfer, Donovan Gagen, from Hutchinson Community College, to create some competition at the position.
According to Beaty, KU's special teams coordinator, Kenny Perry, has done a "terrific job" placing sophomore punters Thompson and Gagen in "heated" competitive drills.
"The guy's got a cannon," Beaty added of Thompson. He's got unbelievable talent. We've just got to make sure we put him in enough situations to where he's comfortable when he gets out there on the field."
San Mateo connection
KU sophomore quarterback Miles Kendrick remembers well when he first arrived in Lawrence as a mid-year transfer this past January.
"It's a different place, you're away from home," Kendrick, a California native recalled.
The QB thinks his experience with the transition has benefited his trio of former College of San Mateo teammates who ended up joining the program as junior transfers this summer: defensive end Jelani Brown and offensive linemen Api Mane and Adagio Lopeti.
"They seem like they've been enjoying themselves and really happy to be here, for sure," Kendrick shared.
The QB goes out of his way to help his fellow Californians whenever he can.
"I kind of experienced that new, rookie, fresh-face kind of feel by myself way before they did," Kendrick said. "Now that we're all here collectively I think it's an even smoother transition and process."
What if college football had exhibitions?
While NFL teams spend the month of August going through preseason camp, an exhibition schedule helps break up their final preparations and prepare them for the regular season.
No such format exists for FBS programs, though.
Asked whether he wished college football players got to experience preseason games like pros in the NFL, KU quarterback Carter Stanley liked the idea.
"That would be cool. Maybe play some non-conference like Nebraska or Missouri," Stanley suggested. "But just working with the guys right now, it's all about timing, all about getting the procedure down with all of them and getting ready for Week 1."