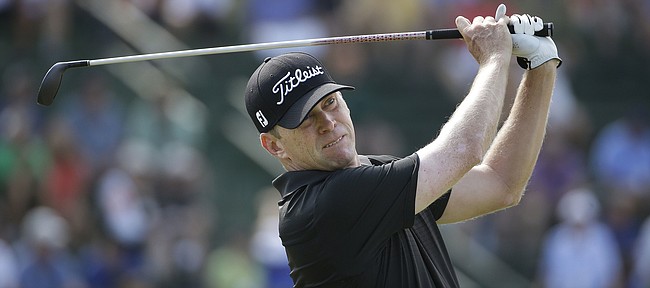 Touring Web.com pro Chris Thompson, who had multiple near misses over the years in Q school in his quest to make the PGA Tour, finished third in the Ellie Mae Classic at TPC Stonebrae on Sunday by shooting a 64.
Thompson's third consecutive top-four finish vaults him to 19th on the Web.com money list with one tournament left in the regular season. The top 25 on the money list earn PGA Tour cards for next season. Thompson is all but assured of a spot in "The 25," which is what the tour calls its money list. He has $175,716 in earnings this season.
"I think it's enough, but it's not 100 percent for sure," Thompson said by phone from Hayward, Calif.
Thompson made a 15-foot putt on the final hole, the difference between a fourth-place tie and solo third. "I'm still going to put the medal down."
"A tie for fourth wouldn't have been enough (money)," said Thompson, who said he's playing with as much confidence as at any point in his career.
"I wasn't nervous," Thompson said of the final putt. "I just figured it was a putt I had to make and I stepped up and made it."
This is Thompson's second season on the Web.com Tour, his first coming in 2007, when it was called the Nationwide Tour. He didn't do well enough to retain his card and had a couple of disappointing final days of Q school until getting through in advance of this season.
Thompson was ranked 60th on the money list heading into the Wichita Open, when he hired caddie Chevy Hartzog, whom he met when Hartzog was looping for his amateur partner in a Pro-Am in South Carolina. Hartzog, 25, is a former assistant college golf coach and a rookie caddie. He reads Thompson's putts for him, freeing Thompson to put a good stroke on them.
In the past three weeks, Thompson has finished tied for third at the Price Cutter Championship in Springfield, Mo., tied for fourth in the KC Golf Classic in Overland Park and solo third Sunday.