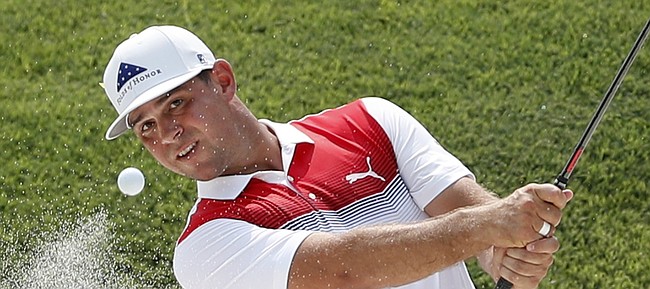 St. Louis — Gary Woodland and Tiger Woods, playing partners Sunday, were hunting the same dangling carrot during strong weeks at Bellerive Country Club in the 100th PGA Championship.
They both were seeking to slay outside doubts about their ability to achieve firsts. Woodland sought his first major title and came closer than ever, finishing in a tie for sixth. His previous best was a tie for 12th.
Woods sought his first major in 10 years, first since spinal surgery and 15th overall. And, just as he had at the British Open last month, he made it very interesting.
They fell short for different reasons, but in so doing, both showed it would be foolish to state with conviction that neither will ever get there.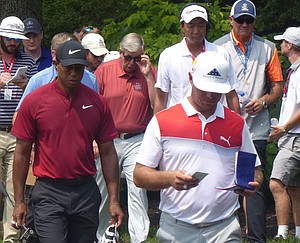 Both golfers, Woodland, 34, and Woods, 42, made it seem more feasible by the way they competed during the week than it would have not so long ago.
In finishing second at 14-under, two strokes behind winner Brooks Koepka, Woods was better late in the tournament than early. He didn't hammer as many deep drives onto the middle of the fairway as Woodland, who had more success early in the week, and didn't do as well around the greens, especially out of the sand, as Tiger.
Woods reminded Woodland of the Tiger of old.
"He did," Woodland said. "Ball flight, I mean, he controls it. The putter was awesome. He had a lot of putts that didn't go in as well. His 64 looked pretty easy, to be honest. The energy in the crowd, that was the biggest crowd I've seen. He just kind of ho-hummed 64 today. Could have shot a lot lower."
The pressure at a major always seems to bring out the best in Woods when he's wearing his signature Sunday red shirt.
Woodland, who has made such great strides in taming his once-wild game, acknowledged he was a little tight Sunday. The worse way to become better at something is to immerse oneself in denial. He didn't do that. Quite the contrary.
Woodland led after each of the first two rounds, shooting 10-under the first two days, even par the final two, finishing with a 1-under 69 Sunday.
Woodland's putter betrayed him Sunday to the same extent it lifted him Thursday, when he took the lead with a 64, and followed it with a 66.
"Putter felt great all week. Today the pressure, from my hands, I think, maybe I grabbed it a little tight," Woodland said. "Couldn't get anything to the hole, which was frustrating. Outside of that, I'm happy with where the game is and excited for the (FedEx Cup) playoffs."
Woodland didn't make a putt of longer than 18 inches until sinking a 13-footer for birdie on No. 8. He missed a 4-footer and 6-footer on the next two holes and fell to 2-over on the day and 7-under for the tournament. As happened the previous day when he dropped to 7-under, he rebounded in impressive fashion. Woodland proceeded to make birdie on three of the next four holes to reach 10-under.
Woodland fans came out in big numbers but, obviously, it amounted to a drop of wine in the ocean compared to Woods.
"We like you, too, Gary," was a common shout from the crowd.
There's a lot of like about Woodland's game and personality. What's not to like?
The two competitors' drives on the 15th hole told the story of why the crowd stacked up so deeply lining the fairways. Woodland hammered it 342 yards down the left side of the fairway and drew polite applause. Woods' came to rest 11 yards behind it and triggered a monstrous roar.
The "Let's go Tiger (clap, clap, clap, clap, clap)" chants died a little too late to give Woodland the silence generally given to golfers studying a putt, and photographers sometimes didn't wait for Woodland to putt, heading to the next hole to position themselves for Tiger's drive.
Woodland had nary a complaint about any of that and appreciated the chance to compete against the biggest golf name of his lifetime.
"It was nice. The fans have been big all week. A lot of KU and Mizzou fans going back and forth. Tiger kind of canceled that out," Woodland said. "I was riding off the energy in that group. It was awesome. To contend in a major on Sunday, the energy was unbelievable. That's what you want. You want to be able to play with him on Sunday and beat him. Unfortunately, I didn't do that today, but I was glad I was in that spot."
Friends and family accustomed to seeing most of the shots of the player they came to support find that a challenge when that player is walking with Woods.
"I saw six shots today," said Dan Woodland, Gary's father. "But it's great to see Tiger competing again. He and Gary are friends, and Tiger has been very good to Gary. He really has been."
Woods left the crowd with a loud memory, a mental snapshot. He buried his 19-foot putt for birdie on No. 18 and let loose with an especially demonstrative fist pump.
Woodland's 16-footer came up an inch short, symbolic of where his quest to join the best stands.
His solution for getting there constantly changes with tweaks here, there and everywhere, but in a general, relentless sense, it hasn't changed one bit since is days playing for the late Ross Randall on the University of Kansas golf team.
"I'll keep working and hopefully be here every week," Woodland said.