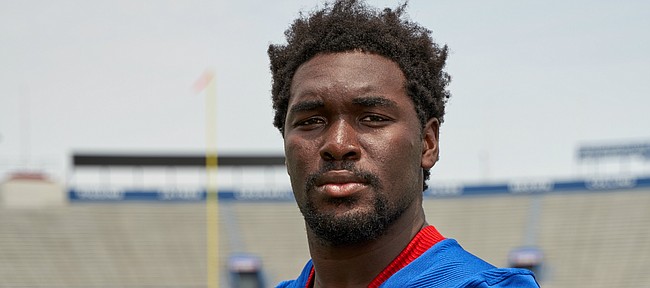 Dating back to the first grade, Hakeem Adeniji has never missed a game.
A junior offensive tackle at the University of Kansas, Adeniji has overcome every minor injury throughout his football career. Since arriving in Lawrence in 2016, he has started all 24 games with the Jayhawks, and never doubted whether he'd be ready to go this fall after undergoing two different shoulder surgeries in the offseason.
"It was really important to be ready," Adeniji said. "This is what I love to do. Every year that I have played football, I have been out there for every game. I've never missed a game, so it was really crucial for me to stay true to my rehab and get back."
After being on the shelf this past spring, Adeniji is a full-go during preseason camp and ready to serve as the anchor of a deeper offensive line. He is slated to play left tackle, which was his position in 11 of KU's 12 games in 2017.
In his sophomore season, Adeniji experienced new obstacles en route to earning honorable mention honors from the Big 12 coaches.
The 6-foot-4, 300-pound tackle sustained his first shoulder setback during August camp, while injuring the other during the fifth game of the season. Both shoulder injuries were diagnosed as torn labrums, which Adeniji admitted had a significant impact on his performance.
"My strength and mobility was different," Adeniji said. "Our trainers have done a great job of helping me get back. I feel ready to go."
Adeniji had the first shoulder surgery one week after the conclusion of his sophomore season and went through the same process for the other shoulder a month later. It prevented him from being available for much of the spring.
However, Adeniji thinks that may have been more beneficial to him in some ways. He was able to focus on making minor changes to his technique and footwork.
"I now have a different perspective as a player," Adeniji said. "I can see how coaches see things. Just looking at things from an outer view, rather than an inner view, really helped."
Most of all, though, Adeniji embraced a coaching role, aiding the younger players on the offensive line in the spring.
It forced Adeniji to become more of a leader, which is something first-year offensive line coach A.J. Ricker has emphasized since taking the job.
"I've challenged Hakeem to be more vocal," Ricker said. "There is no doubt that he is the leader by example. He's going to do everything right. I'm trying to get him out of his comfort zone and be more vocal."
As a result, Adeniji believes the offensive line is poised to make big strides in 2018.
"It starts with us up front," Adeniji said. "We have more experience. We had a lot of younger guys (the last two years). Most of the guys are getting up to that age that we are ready to make a real impact."