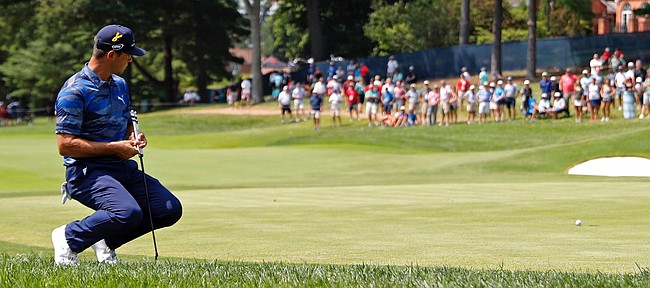 St. Louis — As if this week hasn't been wild enough already for Gary Woodland. He's been the target of Mizzou hecklers ad nauseam during the 100th PGA Championship at Bellerive Country Club, was the sole leader after the first and second rounds, and carded a triple-bogey on the 10th hole Saturday.
Well, it's about to get even wilder Sunday. Woodland, tied for third with Jon Rahm and Rickie Fowler at 9 under, three strokes behind leader Brooks Koepka, is paired with Tiger Woods today at 1:35 p.m. and that' just fine with him.
"The crowds have been big all week. There's a ton of KU people. I'm getting a lot of KU and Mizzou people yelling back and forth. It's been crazy all week," Woodland said. "It's obviously, for me, being in enemy territory down here in Missouri country. So it's been good, though. It's been good banter. The energy's been fantastic, which I really fed off, so I'm excited for that."
Woods will be hunting his first major title since the 2008 U.S. Open at Torrey Pines.
Tiger fans and Tiger fans, of the Missouri and Woods variety, will be rooting against Woodland, but Kansas fans have grown by the day and have made their presence felt.
Golfers aren't really swayed much anyway by what happens outside the ropes. It's all about what's going on between the ropes and the ears.
Woodland had a chance to show what he's made of after losing four strokes to par in a two-hole stretch with a bogey on No. 9 and a triple on 10. He showed he doesn't have any mope in him and has a confidence level that's difficult to dent. He shook off the triple and resumed hunting pins.
He shook it off better than those bleeding for him.
Many wearing Jayhawks on either their golf caps, shirts, or both, fell into a stunned silence as Woodland made his way from the 10th green to the 11th tee box, staring at the manual scoreboard being carried between the ropes, the board that showed Woodland had fallen six strokes behind Koepka, his two playing partner along with Kevin Kisner. Kopeka, who started the day two strokes back and took the lead after the second hole, stood at 13 under on the 11th tee box, Woodland at 7 under.
It would have been easy to write off Woodland at that point, especially with such a star-studded leaderboard.
As it turned out, my mind went to the same place as Woodland's at that very moment. It went to the fourth hole of the Friday round in Phoenix, when Woodland hit a bad sand shot and carded a triple bogey. He recovered from that well enough to secure his third PGA tour victory on Super Bowl Sunday. If he did it once, why can't he do it again? This time, Woodland hit two bad green-side sand shots and one not very good one to score a 7 on the par 4.
What did he tell himself to shake it off?
"I told myself exactly that on 11 tee," Woodland said of his triple in Phoenix. "For me to make triple on 10, to give myself a little bit of confidence, I told myself I did the same thing in Phoenix. And I really hit some great shots the next couple of holes, gave myself a lot of chances for birdie, and made a couple of them. It was nice to have that in my back pocket, (having) been there in that same situation, and came out on top."
It all unraveled so quickly for Woodland and he put it back together with similar swiftness on his way to shooting a 1-over 71.
Woodland had made bogey just three times in the first two rounds and did not have any doubles or triples.
Before getting to how he carded a 7, let's look at what he did up to that point.
He put himself in danger of carding a double on the second hole after pulling his tee shot just enough for his ball to nestle deep into a thick rough with a slight downhill lie. Woodland needed to hit a crisp enough shot out of the rough to cover the water between him and the green. It didn't quite make it. It would take a great shot and/or putt from 137 yards to avoid a double. Woodland stuck it to 12 inches and tapped in for a bogey. Kopeka birdied the first two holes to take the lead.
"It's hard to make big numbers," Woodland said. "On the second hole, when I hit it in the water, that was a big boost to knock it in there tight and only make bogey. You don't want to give back too many shots out here."
Woodland immediately recovered the stroke he lost to par by draining a 19-foot birdie putt on No. 3 to move back into a tie with Koepka, who birdied No. 5 to regain sole possession of the lead. They both birdied No. 8 and Koepka birdied 9 to card a 30 on the front. Woodland missed the ninth green to the right and popped up his chip out of the deep rough, leaving himself a 12-footer that he left short.
Just like that, he was three strokes off the lead, his deficit about to swell to six.
How did it happen?
Woodland hammered his tee shot 312 yards down the left side of the fairway. He and his caddie read their yardage books, and as Woodland pulled a club out of the bag, he looked uneasily up at the trees to gauge the wind.
He put a beautiful swing on it, ending with a pose that would make a perfect photo in a book on golf fundamentals on the page showing what a finish is supposed to look like. One problem: It ended in the bunker in front of the green in a bit of a downhill lie.
Woodland said he "tried to get a little too cute" with it and blasted it into the bunker behind the green, and "unfortunately did the same thing again," and blasted it back into the original trap, which had not been raked after Kisner hit out of it. This time, Woodland's shot landed on grass, on the upslope in front of the green, 44 feet from the pin. He chipped it to eight inches and tapped in for a triple.
I asked Woodland if he might have needed one more club for his second shot.
"No, I just needed to hit it a little bit harder," Woodland said. "I was just trying to hit it 185 yards and obviously hit it 180 yards, but I think the wind switched on us a little bit. I hit the shot how I wanted to and just came up short."
Woodland put it behind him and made birdie putts of 13 and 6 feet on 12 and 14, and missed birdie putts of 10 feet and 9 feet on 11 and 13. He missed 15-foot birdie putts on 15 and 16 and reached 17, a par 5, in two, but three-putted from 42 feet, leaving the first putt 11 feet short.
Woodland and the rest of the field are chasing Koepka, who has won the past two U.S. Opens. If not for Woodland's triple on 10, they would be co-leaders, which would have really confused those fans who routinely mistake them for each other.
"Yeah, it's happened quite a bit," Woodland said. "I get it all the time, so I'm used to it by now. Playing together too, you think they could get it right, but I … guess we're built pretty similar. Hopefully, I'm in his position tomorrow."
More like this story on KUsports.com