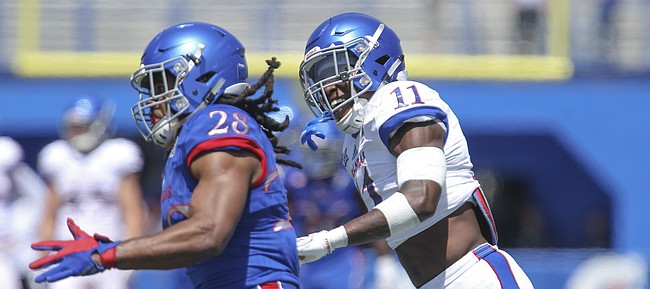 Currently going through his third preseason with the University of Kansas football program, safety Mike Lee feels better about the state of the team this August.
Looking back at camp practices that ushered in his freshman and sophomore seasons and comparing them to those of the past week-plus, Lee thinks he has picked up on an important difference.
"My first two camps, really, there was bad communication on each side of the ball. I feel like this year everybody's on the same page. Everybody knows what to do," Lee shared.
Obviously, the Jayhawks haven't achieved perfection by any means since practices began on Aug. 3. But according to Lee's observations, a much cleaner product has been on display at KU's practice fields.
"We'll have some missed assignments, but we won't have that many. We'll have one or two. Last year it was more like five, six," Lee said. "That was bad. And that led to the games. And you know how that turned out."
After KU handled outmatched FCS opponent Southeast Missouri State, 38-16, in its 2017 opener, the Jayhawks dropped their final 11 games, with seven defeats by at least 20 points.
With the defense, which surrendered Big 12-worsts of 468.3 yards and 43.4 points per game a year ago, at least supposedly in a better place behind the closed gates of KU's preparatory practices, Lee explained some signs that have him encouraged about the unit's effectiveness.
"The defensive side of the ball, really, we're used to playing with each other now. Last year, really, we had rookies all over the field," Lee said. "It's a lot of veterans now on the field, everybody's getting along, communicating. Everybody's on the same page, and we've gotta just keep that going."
The KU defense returns nine players who started in 2017 and added several transfers, such as safeties Jeremiah McCullough and Davon Ferguson, cornerbacks Elijah Jones and Elmore Hempstead Jr., and defensive linemen Codey Cole, Najee Stevens-McKenzie and Azur Kamara, as well as true freshman cornerback Corione Harris.
More game-like reps
For the first four practices of camp, per NCAA rules, the drills the Jayhawks went through didn't include full pads or the type of hitting players routinely experience during the season.
Lee, a 5-foot-11, 181-pound safety known best for his powerful impacts in the secondary, was one of the Jayhawks most looking forward to the reps that he thinks best prepare them for Saturdays in the fall.
"Shells are really just shorts," Lee said of the equipment worn prior to Wednesday, when the Jayhawks switched over to full pads and tackling. "That's not fun. It's just touching and grabbing. That's not my type of game. I like to tackle. So when full pads came on I had a big smile on my face."
Even though Lee loves delivering hard hits in the open field, he said he avoided doing too much damage to any teammates once the Jayahwks began simulating more in-game scenarios.
"Really, I didn't have a victim. I was just out there making plays," Lee said with a grin.
At Thursday morning's practice, Lee revealed, he and junior running back Khalil Herbert met up one-on-one.
"We had a good collision. He got up, first down. But it was a great competition between me and him," Lee assessed, adding that always seems to be the case when he encounters Herbert.
"I like to go head-to-head with him every time. Every time I get a chance to," the junior defensive back added.
Wins for both sides of ball
Through the first handfuls of practices, KU offensive and defensive players have experienced their share of successes.
And if one side gets rolling, it's not uncommon for the other to respond.
Lee said earlier this week the offense came out and set an impressive tone.
"The first half they got on our butts," Lee related after Thursday morning's practice. "They were getting downhill on us. But second half we had to step it up, bring a lot of intensity and energy. We came with it the second half."
Sophomore quarterback Miles Kendrick said that particular morning the offense found ways to click.
"I just think we're doing our homework and the days are starting to I guess collectively add up," Kendrick said. "Offense takes a little bit of time. You've gotta get chemistry and shake out kind of the jitters, stuff like that. We're starting to make plays, starting to fly around, just like the defense has."
From Lee's standpoint, he thought KU receiver Steven Sims Jr., Herbert, Kendrick and quarterbacks Carter Stanley and Peyton Bender deserved credit for one of the offense's best runs up to that point.
"Everybody was just doing their jobs," Lee said of the offense during 11-on-11 and seven-on-seven situations, before the team went through its first closed camp scrimmage on Saturday.
Asked whether he made any play that left him particularly happy, Kendrick said he and the other KU QBs have shown a knack for making zone reads and taking what the defense gives them.
"I think we've all made some pretty good throws," Kendrick offered.