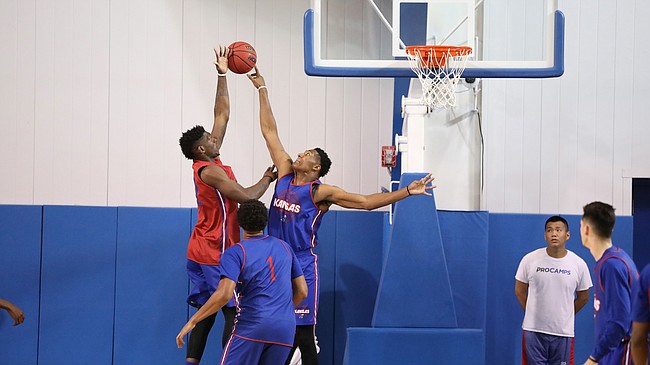 One Kansas newcomer recently completed his trip to Europe for a summer basketball tour and another is on his way over.
Just days after KU point guard Charlie Moore returned from a four-game exhibition stint in Italy, Kansas freshman David McCormack is Belgium-bound, joining a team of college players who will compete for Global Sports Academy on a European Select Team tour Aug. 12-16. The team is scheduled to leave the United States on Friday evening with an arrival in Brussels slated for Saturday morning.
McCormack and his new teammates will be coached by former Santa Clara head coach Kerry Keating — the son of current KU administrator Larry Keating — and will play five games in six days in Brussels. McCormack is one of 11 players on the team that features athletes from UAB, Belmont, Villanova, Rider and SMU.
"Kerry had been on us for about a month trying to figure out if we wanted to send somebody," KU coach Bill Self recently told the Journal-World. "And I really thought it would help David as much as anybody because I think that he needs to play. He's done such a good job in drill work and things like that, but I still think he needs to get out there and play. This'll be good for him."
McCormack, who spent time in Italy with the Adidas U.S. select team during his high school days, did not find out about the opportunity until mid-July. But it took him absolutely no time to accept the offer.
"Coach (Self) just called me up and asked me, 'Would you like to take a trip to Belgium?' And I was like, 'Sure, why not,'" McCormack recalled to the Journal-World.
The why of it all makes for a more interesting story. Rather than spending the final weeks of his summer vacation with friends and family back home — most Jayhawks are expected to report to campus by Aug. 18 for the start of preseason camp and first day of classes on Aug. 20 — McCormack jumped at the chance to play with teammates he just met for a coach he didn't know in a country 4,500 miles away.
Why?
"I just kind of want to take it and run with it, work on my game from all aspects, from expanding my game and doing whatever I need to get done," McCormack said. "Take every opportunity and just try to get better."
With two summer school sessions and a bunch of summer workouts and team pickup games now under his belt, McCormack said his feel for life as a Kansas basketball player is much better today than it was when he first arrived back in June.
"It's been not so much a struggle, but it's definitely been an adjustment," McCormack explained. "But it's been great. I think I've been acclimating pretty well."
McCormack credited KU's academic staff for helping him find the balance between classes and conditioning and said he believed everything he did this summer would have him ready for a busy first semester.
Through his performance in pickup games and at camp scrimmages, as well as in the weight room, McCormack already has a reputation among his teammates and the KU fan base as a player who goes 100 percent all the time.

"That's me. That's just who I am," he said. "I mean, my motto is not to get outworked. I may not be the most talented or the most skilled, but I can assure you at all times I'm definitely going to be the hard worker who does the nitty gritty work."
As for Moore's second consecutive Italian summer exhibition tour, the transfer from Cal helped the USA East Coast squad coached by Larry Brown run to a 2-2 record during its tour of Venice.
Moore averaged about 15 minutes per game off the bench for Team USA and was among the team's leading assist men during the four games.