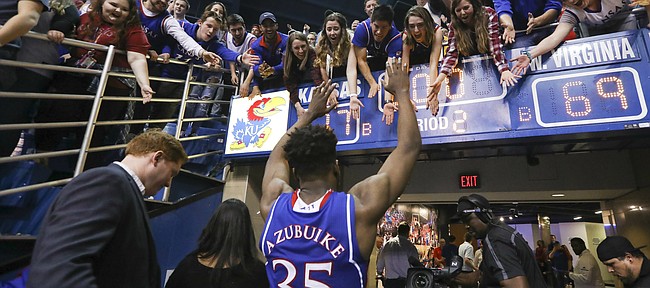 It'll be Kansas versus Marquette on the Wednesday before Thanksgiving, with the winner playing the winner of the Louisville-Tennessee the Friday after.
A Kansas official confirmed the pairings of this year's NIT Season Tip-Off event at Barclay's Center in Brooklyn, N.Y., to the Journal-World on Thursday night.
Neither game is pencilled into the bracket on the NIT Season Tip-Off website nor on KU's schedule, but the official said the tip times will be scheduled for 6 and 8 p.m., with KU likely playing the second game on both nights.
Kansas is 6-1 all-time against Marquette, with the most recent victory coming via a 94-61 pounding of Dwyane Wade and Marquette at the 2003 Final Four and the lone loss coming in Greensboro, N.C., at the 1974 Final Four.
Marquette, now led by head coach and former Duke point guard Steve Wojciechowski, reached the quarterfinals of the 2018 postseason NIT after posting a 21-14 overall mark and tying for sixth in the Big East Conference with a 9-9 league record.
Wojciechowski has led Marquette to back-to-back postseason appearances in 2016-17 and 2017-18 during his first four seasons, including an NCAA Tournament appearance in 2017.
The Jayhawks own a 6-5, all-time edge over Louisville and are 2-1 all-time against Tennessee.