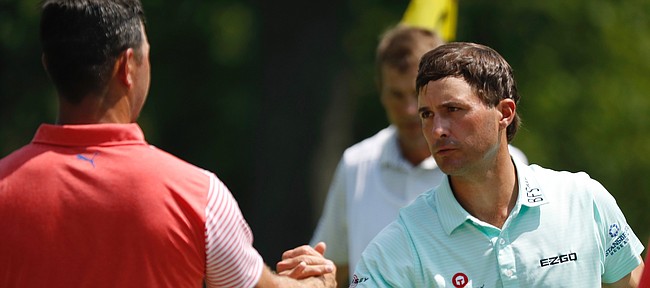 By Tom Keegan
Twitter: @TomKeeganLJW
St. Louis — The galleries at Bellerive Country Club for the PGA Championship were so thick that Gary Woodland's parents, Dan and Linda, weren't always able follow the flight of their son's golf ball as it tore off the tee boxes Friday morning.
No problem, they only needed to see their son to know how the shot went.
"He bent down and picked up the tee right away," Dan said after Gary lashed his first drive, on No. 10, 314 yards onto the left side of the fairway. "When he picks it up right away, that means he likes it. Must be a good one."
Added Linda: "If he stands there and looks at it, maybe rough, fairway bunker, trees."
For the second day in a row, the talented son ensured his parents' stress levels stayed low, their pride high.
Woodland shot a 66 and finished his day as leader in the clubhouse by one stroke with a score of 130, a record after two days at the PGA Championship.
Woodland, who teed off the back side at 8:01 a.m., wasn't about to get caught up in whether his lead would withstand the day with so many players still on the course and others still waiting to start their rounds.
"I feel safe because I feel safe where my game is," Woodland said. "I'm not too worried with what anyone else is doing out there. The golf course is gettable, I think. If you drive the golf ball in play, the greens were rolling a little bit better today, maybe a little bit quicker. So guys, I think we'll see some putts go in.
"For me, I'm very happy with where I'm at. I'm very comfortable with how I'm driving the golf ball. The iron game, the distance control this week, has been phenomenal. And when I stand over a golf ball putting as comfortable as I am right now, I'm pretty excited."
Woodland took a one-stroke lead into the day after shooting a 64 Thursday and chipped his way to a birdie on his second hole Friday, No. 11. After a three-putt on 14 he was back to even on the day. It was a little early in the tournament to do any scoreboard watching, not that Woodland needed to because the hottest player on the course was playing with him and Sergio Garcia.
Kevin Kisner birdied 10, 11, 13 and 15 to move to 7 under, pushing Woodland to second temporarily. Woodland stayed at 6 under until executing his shot of the day on No. 17, a par 5. After pummeling his drive 321 yards, Woodland took aim at the green.
"It was a little cut 3 wood back into the wind," Woodland said. "I was telling it to go. I didn't know if it was going to cover enough, but it looked like it just covered the bunker and rolled up there to about 5 feet."
He drained the eagle putt to drop to 8 under. Kisner birdied to go 8 under as well and regained a one-stroke lead with a birdie on 18, finishing his first nine holes in 29 strokes.
"His played beautifully," Woodland said. "He drove the ball unbelievable and he gets the putter rolling quite often. It was nice to feed off that energy. The crowds have been massive, which is awesome. So it's good to have that energy out there as well."
Kisner cooled on the second nine and Woodland registered another solid side with birdies on 2 and 3 and a bogey on 4.
Woodland didn't drop as many putts in his second round, but triggered a huge roar from the crowd on No. 8, his second-to-last hole of the day.
His speedy 24-footer settled into the hole and two hollered words rose above the roar: "Rock Chalk!"
"The crowds are as big as I've seen," Woodland said. "They were massive on Monday. For me, being this close to home, I have a ton of friends and family out here, a ton of KU people, which is nice, but we are in Missouri territory. I mean, there's a lot of Mizzou people out there. I'm getting more M-i-z's than I am Rock Chalks, which is very rare. It's funny. It's nice. Good banter back and forth between the Kansas and Missouri fans."
Said Kisner: "Got to listen to all of the KU/Missouri banter all day with Gary, I didn't know that was such a rivalry. So they're fighting across fairways at each other."
Kisner made bogey on No. 9 and finished the day with a 64, one stroke behind Woodland and one ahead of Brooks Koepka, winner of the past two U.S. Opens. Kopeka shot a bogey-free 63, tying the lowest round in the history of golf's fourth major. Chart Schwartzel matched the score later in the day to move within three strokes of the lead.
At 3:35 p.m., when time the horn blew to suspend play because of a severe weather warning, Rickie Fowler was in the best position to make a run at Woodland's lead. He stood at 7 under with eight holes left to play.
Two hours after play was stopped it was announced that the second round would be resumed Saturday, starting at 7 a.m., with the third round starting after completion of the second.