By Tom Keegan
Twitter: TomKeeganLJW
St. Louis — Two thousand miles west of Bellerive Country Club, where Gary Woodland finished his round on top of the leaderboard for the second day in a row Friday, another former University of Kansas golfer kept his hot streak alive.
Touring Web.com pro and two-time KU All-American Chris Thompson shot a 65 for a two-day total of 9 under in the Ellie Mae Classic at TPC Stonebrae, leaving him tied for sixth when he finished his round with several other players still on the course. By day's end he had slipped to tied for 11th.
Thompson, who shot 66 Thursday, had a string of four consecutive birdies at one point Friday. He entered the second-to-last tournament of the Web.com regular season ranked 34th on the money list. The top 25 earn a PGA Tour card for 2019.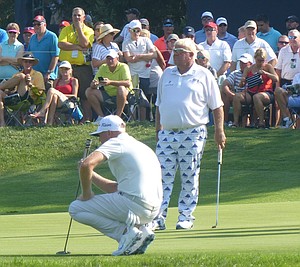 Ryan Vermeer shoots second consecutive 73 at Bellerive
Former KU All-American Ryan Vermeer made a 6-foot birdie putt on No. 3 and an 10-foot birdie putt on No. 8 to move to 1 under on the day, but finished with a second consecutive 73 to miss the cut. He did some nice scrambling both days.
Vermeer was happy to learn last Friday that he would be playing with John Daly, who also played in the last PGA Championship at Bellerive in 1992.
"I thought it was cool," Vermeer said. "The guy in my opinion could be a Hall of Famer. He's won two major championships. I knew that he'd bring out a crowd, which he did. It's pretty funny to listen at the guys yelling at him, kind of stupid stuff, but it goes with the territory for him, so it was cool."
Stupid stuff such as?
"Where we going? Chili's or Twin Peaks," Vermeer said. "A lot of dumb stuff, but whatever. It's fun for the fans, I guess, and kind of annoying for us. But we just laugh it off and go with it."
Twenty club professionals played in the tournament by virtue of their finish at the PGA Professionals Championship. Vermeer won it, which gives him a spot in six tournaments during the 2019 season.
Woodland calls attention to Folds of Honor
Major Dan Rooney, a former KU golfer and a fighter pilot who served three combat tours in Iraq, founded "Folds of Honor," a charity that has raised more than $100 million and has awarded more than 13,000 scholarships for family members of soldiers killed or disabled in combat, according to Rooney's profile on his Washington Post Speakers Bureau profile.
Woodland has brought attention to the charity in many ways in the past, but perhaps never with as much exposure as this week. He wears Puma's Volition line of golf shirts, which send 13 cents from every sale to Folds of Honor, and wore a Folds of Honor cap both days.
Rooney officiated Woodland's marriage to the former Gabby Granada.
"He's been a really close family friend," Woodland said of Rooney. "He got me involved when he started the Folds 10 years ago. … It's nice to give back to the military. Those men and women sacrifice so much for us so we can come out here and play golf and enjoy our dreams. It's nice to give back. They hold a special spot in my heart."