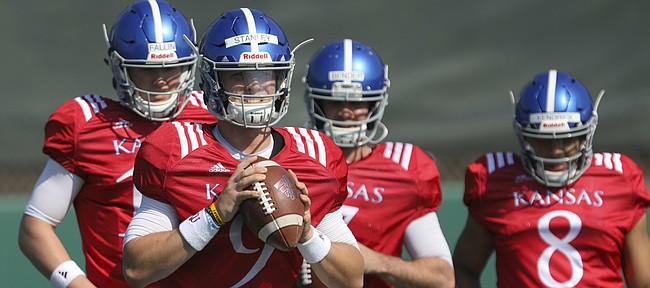 Six practices into preseason camp, the Kansas football team still has a three-man quarterback competition on its hands, with Thursday morning marking just the second session in full pads.
As repetitions remain split between Peyton Bender, Carter Stanley and Miles Kendrick, their head coach, David Beaty, is eyeing an upcoming scrimmage as a likely moment of separation.
"After Saturday, we should know a whole lot more," Beaty said. "It will be about a 135-, 140-play scrimmage."
The fourth-year KU coach earlier this summer outlined a plan to cut the QB race to two quickly during the preseason.
Asked if he hoped to accomplish that following the team's first August scrimmage, Beaty began by responding that he would "like to" do so.
"Like I said, we won't trim it just to make everybody happy," Beaty clarified. "We're going to trim it when it naturally occurs. It's not about happiness. It's about doing the right thing. It's about doing the right thing for that Jayhawk on our chest. We can't work off emotions and just perception. We got to work off reality. I feel pretty comfortable Saturday will tell us quite a bit. So, hopefully, I got some more news for you."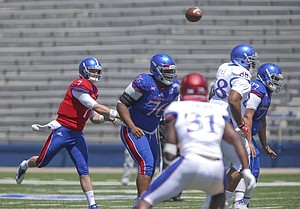 Practices up to this point have included some game-like situations, with 11 fully-padded players battling against one another the past two days.
According to redshirt junior Stanley, the repetitions have been distributed "pretty even" between the trio of QBs in those scenarios. He said the three contenders had not been told yet whether that would be the case for Saturday's scrimmage.
"I think that scrimmage will do a lot for us. It'l be good for us," Stanley predicted. "We'll be able to move the ball down the field and do some drives, so it'll be good."
Stanley also said reps have remained "pretty even" for the quarterbacks in terms of how many snaps they are taking with the first and second units.
Sophomore Kendrick, who transferred to KU from College of San Mateo (Calif.) in January, anticipates the scrimmage taking on a fresh feel for many of the players, including the QBs.
"Obviously, it'll be intense. Guys will be excited a little bit more with a game atmosphere," Kendrick said, before sharing his plan of attack. "For me, it's just stay even keeled, cool, calm, collected and take care of the football. And, really, just use these last couple days to get better and improve and get ready for the scrimmage."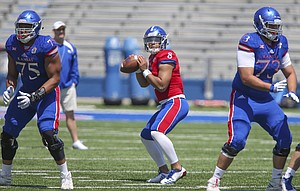 A redshirt senior, Bender said all three potential starters will have to prove themselves to their position coach and offensive coordinator Doug Meacham as the competition inches toward a conclusion.
Bender admitted reps can feel "limited" with three players rotating in and out. So each time a QB gets a chance, he has to show the coaches: "You know what you're doing. You know where to go with the football."
Even though the three-QB race that began in the spring will finish soon, Bender doesn't think the competition itself feels too different.
"It's kind of the same format every day. We all get our individual reps and we just have a rotation going. Just, when you're in there, you've got to make the most of it," Bender shared. "We go for a four- or five-play series and are just rotating. So sometimes, it's tough to get into a rhythm, but that's how it can be in the game. You could just be thrown right out there."