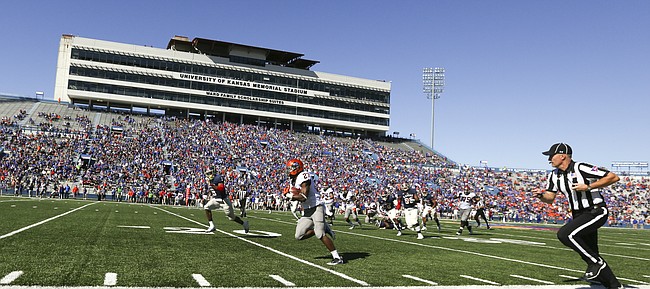 As Kansas football head coach David Beaty and his staff led players through their first few days of preseason camp, they learned a man with a long history of working with successful Power Five programs will soon join them.
KU athletic director Jeff Long announced Monday the hiring of Mike Vollmar, a former associate athletic director for football at Alabama and Michigan, as KU's senior associate AD for football administration.
Beaty, speaking with reporters Thursday for the first time since Long added Vollmar as an administrator, said he and his assistants are "excited" for Vollmar to arrive next week.
"He actually knows a bunch of guys on our staff," Beaty shared. "He's either worked with them or worked in conjunction with them before. I've obviously seen his resume. I know a lot about him just by the number of times that we've come in contact through the guys that we work with."
According to KU's fourth-year head coach, he had hoped a few years back to bring Vollmar to KU in a consulting capacity.
Vollmar served as director of football at IMG Academy in Bradenton, Fla., before accepting the position at KU, which he is scheduled to start on Monday. He joined IMG this past February after spending four years overseeing University of Tennessee football as a senior associate athletic director. From 2011-12, Vollmar worked at Michigan. He was at Alabama, from 2008-10. From 1996 to 2007, Vollmar was an assistant AD and director of football operations at Michigan State
"I know he's going to help us move the program forward," Beaty said. "Man, I'm looking forward to working with him. Our conversations have been terrific. I know he's excited to get here."
Per Beaty's discussions with Long, Vollmar is expected to help KU football address and remove "the roadblocks" facing the long-struggling program.
Preseason scrimmages to come
After spring football came and went without a typical scrimmage due to the roster's depleted offensive line, the Jayhawks will function normally in the weeks ahead.
The first preseason scrimmage, scheduled for Saturday, Beaty said, will be followed by another full scrimmage and "probably" two more half scrimmages at other practices between now and the Sept. 1 opener.
"And then we'll have a couple tackle days in there where we'll have situations where we'll be able to get physical and hit," the coach added. "We hit a little bit more (Thursday), which was good. Not a lot, but we had a couple of live periods, goal line, short yardage (Thursday), which was really good. It was really good stuff for us. It was an area of concern for us last year. I thought we improved in the actual production of it, but we had some unforced errors throughout the season that we really had to address."
Simulating game situations more often than they did during 2017 camp, Beaty added, will be critical.
Self stops in
As the Jayhawks went through their sixth practice on Thursday, another KU coach came through to check in on their progress.
Beaty said basketball coach Bill Self observed "for a while" on the sidelines of the practice fields.
"Man, I just love that guy. That dude, he can football coach any day. He's a special guy," Beaty said of the KU basketball coach, entering his 16th year with the program. "But it was good to see him out there. His staff was out there (Wednesday). Those guys are around and just thankful that they come out and hang out with us. Really, really good guys over there."