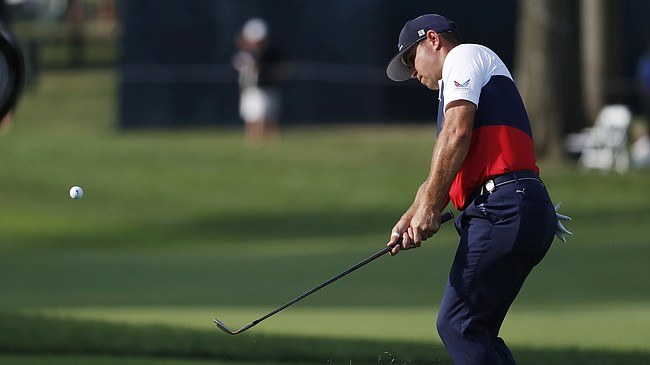 St. Louis — Gary Woodland, one of the world's longest drivers of the golf ball, would be a fashionable pick to win a major, if only the shortest stick in his bag treated him better.
Ranked 202nd on the PGA Tour in one-putt greens, Woodland picked a great day to have the best putting day of his life Thursday in the opening round of the PGA Championship.
Woodland, 34, shot a 6-under par 64 to take the first-day lead in golf's fourth and final major of the season. He made a career-best 152-feet-5 inches of putts. Standing at 1-over through seven holes, Woodland caught fire with the putter and birdied seven of the remaining 11 holes.
Playing at Bellerive Country Club, which has zoysia fairways, gave Woodland a familiar feeling, as did the high temperatures. The course is about a four and a half hour drive from his hometown of Topeka, so Woodland had a strong following of family and friends in the gallery. But it was an Englishman whom he cited as having the biggest hand in his strong day.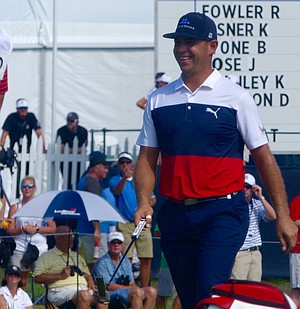 After his Saturday round at the British Open, Woodland sought out putting guru Phil Kenyan, who counts Rory McIroy among his many celebrity clients.
"I was hitting it so good and just getting nothing out of it," Woodland said. "He showed me some things that he saw that I was doing wrong."
Kenyan also advised Woodland to putt with a fat Super Stroke grip, which Woodland switched to for Tuesday's practice round.
"We sat down earlier this week," Woodland said. "He just showed me on video what he thought I was doing wrong."
Once Woodland put the Super Stroke grip on, he said, all the changes he had made with Kenyan clicked.
"I don't have to think anymore," Woodland said. "I literally grab the putter and go."
In an email interview with the Journal-World, Kenyan said of Woodland, "Match good technique with athleticism and you can achieve great things."
As for why the fat grip, Kenyan said it "changed his hand position, which in turn helped his wrist motion, which in turn helped him release the putter differently."
Woodland made a 17-foot par putt on No. 5, and really had the putter cooking on the back nine, which he covered in 30 strokes. He made a 44-foot putt for birdie on 11, and made 23-foot birdies on 12 and 16.
"When I see putts go in, I'm a completely different player," Woodland said. "I feel like I'm driving the ball as well as I ever have."
Woodland, 34, has worked with a few different swing coaches throughout his career, but appears to have found a permanent solution in world-famous Butch Harmon. He also has worked with a number of different short-game instructors, most recently with Pete Cowen, at the recommendation of Harmon.
Early this season, Woodland secured his third tour victory at the Phoenix Open, then fell into a prolonged slump, but has been playing better in recent weeks.
"The short game has really held me back," Woodland said. "I hit the ball beautifully, but to contend week in, week out, I have to get better in those areas. And after winning, I think we focused so much on short game, and I let some of the ball striking go. So it was an adjustment through the middle of the summer that was very frustrating to me because I was playing so well."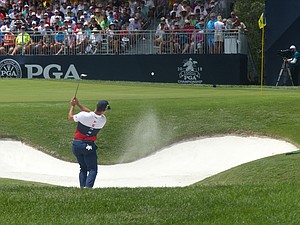 Golf is a game of constant tinkering where working on getting better sometimes requires getting worse first. Making changes in the middle of the season is risky, but for Woodland, the timing has worked out.
This is Woodland's 28th major, a testament to how well he has done on tour, but he never has finished higher than 12th in a major.
"A lot of it is pressing," Woodland said of not having a better record in majors. "I've set my schedule the last couple of years to gear up for majors."
His putter grew hot just in time to soar past some of golf's biggest names, including Rickie Fowler, who is one stroke back, Zach Johnson, who is two strokes back and tied for second, and Dustin Johnson and Justin Rose, who are in an 11-way tie for fifth, three strokes behind Woodland.
Fellow Jayhawk Ryan Vermeer is in a 20-way tie for 100th at the 100th PGA, 3-over par.
Woodland noted that this tournament is the closest he has ever played on tour to home, but at the same time, noted not everyone tried to make him feel right at home.
"We're kind of in enemy territory down here in Missouri," Woodland said. "We're big Kansas people, but the fans were nice to me, as well, and I really fed off the energy."
Woodland said there were "a lot of jokes going on making fun of Jayhawks and the noise they make compared to a Tiger. I mean, I heard a lot of stuff that actually made me chuckle, but it's all in good fun. I'm just happy and excited to be as close to home as I'll ever be."