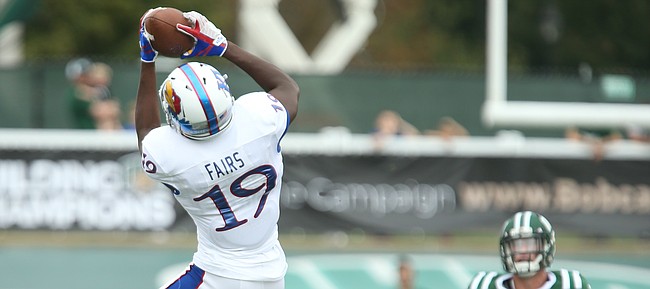 University of Kansas junior receiver Evan Fairs still remembers the first time he beat his older sister in a race.
The sibling showdown was formed by Fairs' parents when he was 8 years old in Fulshear, Texas. They challenged both Evan and his sister, Erin, to run to the stop sign, which was about a mile away from the house. The winner would receive money as a prize.
Erin, who is four years older than Evan, racked up plenty of victories at first. After five years of losing, however, Evan started to get bigger and faster. He clinched his first win when he was 13 years old.
"She used to beat me all the time, but it made me better," Fairs said. "I was in eighth grade when I first beat her and I got that money. I got to brag about it to my sister."
When the races began, the prize was $10. As the two got older, the pot increased all the way up to $50. The races ended one year after Evan's first victory, though, as Erin went off to play collegiate volleyball, eventually becoming an honorable mention all-American as a senior at Louisville.
Erin first played at South Florida for three seasons, and became the first player in history to garner all-conference honors in three different leagues during her four-year career. Erin has since moved overseas to play at the professional level, for Trefl Proxima Krakow, in Poland.
Despite the distance, the sibling rivalry never wavered. The two are in constant communication via texts and phone calls, pushing one another in their respective sports.
In fact, Evan was motivated by his sister this past offseason when he attempted to put on weight. Fairs said he added 15 pounds to his frame from last year, which now has him at 205 pounds.
Fairs was 210 pounds in the spring, though he admitted that he felt too heavy. Fairs worked with KU's training staff, while keeping in contact with his sister, to get to the right size by the time preseason camp rolled around.
"I tell her about my workouts and she tells me about her workouts," Fairs said. "We are pretty much as competitive as we used to be. She just helps me a lot. We help get each other better."
Fairs added weight in an attempt to become a more complete receiver this fall.
Last season, Fairs was viewed as a potential big-play receiver. He hauled in 24 catches for 335 yards and one touchdown in 12 games, averaging 14.0 yards per reception His 6-foot-3 stature helps him win in jump-ball situations, particularly on fade routes.
This year, Fairs wants to be relied on in any route. His favorite three patterns are the post, curl and slant.
"I like taking the small play and making something big," Fairs said. "I like the slant, because not a lot of receivers like to get inside. Last year, I was known as just a deep threat. This year, I want people to know I can go inside and make something happen on a five-yard route."
Fairs' teammates have taken notice of the changes he has made since last fall.
"He worked really hard this offseason," junior quarterback Carter Stanley said. "He's always been long and can roll for sure. He's got really good hands. I expect a lot out of him, because he has been a contributor in the past. I expect more and more as we go forward."
A larger role will be necessary for Fairs, who tallied the second-most receptions among returning receivers last season.
In addition to adding weight, Fairs watched a lot of video footage in the offseason to help read coverages better. Fairs also worked closely with senior receivers Steven Sims Jr. and Jeremiah Booker to improve his technique.
"They have been working a lot with me for my on- and off-the-field activities as far as footwork," Fairs said. "We have just bounced ideas off each other to be a better overall player."