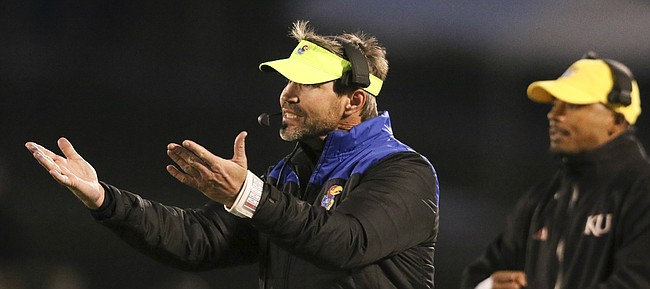 As the Kansas football team continues its preseason camp schedule, defensive coordinator Clint Bowen looks forward to having an essential inspirational factor of sorts at his disposal this season.
If a defensive lineman, linebacker or defensive back fails to carry out his responsibilities one too many times, Bowen, unlike during some recent years at KU, expects the threat of demotion will come in handy.
"The bottom line is, in college football, competition is the greatest thing you have," Bowen said. "Knowing that me as the coach, I can bench you and put someone else in and never have to come back to you, you can talk about all this other stuff; the kids want to play in games."
In past years, fear of too steep a dropoff in effectiveness if he turned to a second- or third-string defender, Bowen admitted, handcuffed him in some situations.
He's far more optimistic about the qualities and quantities of the players at this point, as the Jayhawks head into their second week of camp practices.
Bowen revealed even the threat of benching a player might have been a waste of words previously, considering the personnel available on some bygone KU rosters.
"They're not dumb. They know if the guy behind them ain't any good," Bowen said. "So having that depth chart and having that ability to truly be two deep on a board that can go into a game and compete and win, it's a luxury you need as a coach."
The KU defense returns nine players who were starters in 2017 and added several transfers, such as safeties Jeremiah McCullough and Davon Ferguson; cornerbacks Elijah Jones and Elmore Hempstead Jr.; and defensive linemen Codey Cole, Najee Stevens-McKenzie and Azur Kamara, as well as true freshman cornerback Corione Harris.
No replacing Armstrong
While Bowen thinks KU's defense is gaining one advantage with its improved depth, he also realizes the blow it will suffer having lost defensive end Dorance Armstrong Jr.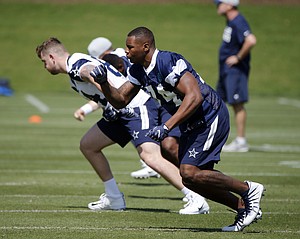 A would-be senior, Armstrong left the Jayhawks a year early and was selected in the fourth round of the NFL draft by Dallas this past April.
Bowen has known for some time this of this reality, of course, but strategizing without Armstrong has proven different, at minimum.
"Dorance, we were fortunate to have him doing some things. I don't know … I do know," Bowen corrected himself mid-sentence. "We don't have the guy with the skillset that Dorance had, to just truly be able to win a one-on-one battle in a pass-rush situation."
Potential edge rushers for the 2018 Jayhawks include Stevens-McKenzie and sophomore Kyron Johnson, who is playing a hybrid linebacker-edge rusher position.
"There's a lot of people in the same boat that we are, because there's not a lot of Dorances out there," Armstrong's former coach said of the now 6-foot-3, 259-pound end. "You just have to be a little more creative with your pass-rush stuff and not count on a guy just winning a one-on-one battle as much, which, obviously, that's a good world to be in, but if you're not, you just have to try and create things a little bit more."
Beaty trusts Long will remove obstacles
During new KU athletic director Jeff Long's introductory press conference, he identified a primary objective as removing obstacles that may impede KU head coaches.
With Long just starting on Aug. 1, football coach David Beaty said his new boss had been clear there would be a "time and place" for really diving into the program's issues.
"He's kind of like me when I first took over: He's drinking from a fire hose, as well," Beaty said of how busy Long has been.
"But just a little bit of that we've touched on," Beaty added. "There's no doubt in my mind that the obstacles will be removed for all of our programs. He just gets it. The thing I love about him, everything is player-centered, all student-athlete-centered. That's something we believe in, as well."
Long announced two days after Beaty's most recent interview session the hiring of Mike Vollmar, a former associate athletic director for football at Alabama and Michigan, as KU's senior associate AD for football administration.