Wednesday, August 8, 2018
An injury marred the Kansas football team's fifth preseason practice, its first in full pads, on Wednesday morning.
An ambulance was called to the practice fields adjacent to David Booth Kansas Memorial Stadium when offensive lineman Jacobi Lott suffered an unspecified form of trauma that was deemed a code red due to its critical nature by paramedics who arrived on the scene.
Lott left the practice in an ambulance after being stabilized and was taken to a hospital.
A KU spokesperson said Wednesday afternoon Lott was considered in "stable" condition and "responding normally" while being further evaluated. A timetable for his recovery and future availability is unknown at this time.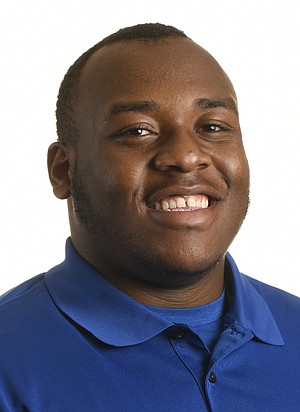 Listed at 6-foot-4 and 309 pounds, Lott is a true freshman from Amarillo, Texas. Rivals rated him as a three-star prep prospect at Tascosa High, and Lott reportedly had an offer from the University of Texas, too, before signing with KU.
"He's a multidimensional guy," KU head coach David Beaty said of Lott during his National Signing Day press conference earlier this year. "He plays offensive line, but he played defensive line and was very talented there, too. Strong guy."
Exactly how Lott would factor in along KU's O-line as a true freshman this fall had not been established at the time of his setback.
Lott's father, Charlie, played football at Texas Tech. The KU lineman's uncle is Ronnie Lott, an All-American at USC in 1980 who went on to become a four-time Super Bowl champion with San Francisco and a Hall of Fame defensive back.