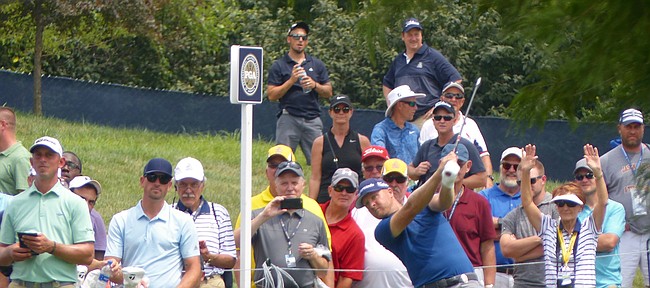 St. Louis — Working on adjusting struggling golfers' grips and other flaws as recently as Saturday, former University of Kansas golf All-American Ryan Vermeer was gripping a Sharpie, accommodating hordes of autograph seekers Wednesday at multiple locations on the grounds of Bellerive Country Club.
Never mind that most of those excited to get his signature on a piece of memorabilia had to read the name to see who he was — he's playing in a major, which makes him a celebrity for the moment. And he seems to be enjoying every one of those moments.
It's a nice diversion in his golf schedule.
Vermeer gives lessons for a living at Happy Hollow Club in his native Omaha, Neb. He arrived in St. Louis on Monday to begin preparing for the 100th PGA Championship.
Vermeer, 40, earned a spot in the field by winning the PGA Professional Championship, a tournament that rewards the top 20 finishers in the field of club professionals with a spot in golf's fourth major on the calendar. It's his second consecutive appearance. He missed the cut last year.
Gary Woodland, 34, is playing in his seventh PGA Championship.
Both Jayhawks will play the first two days of the tournament with household names in golf. Vermeer tees off No. 10 at 12:59 p.m. Thursday in the same group as John Daly, 52, the hard-driving, hard-living winner of the 1991 PGA and 1995 British Open. Paul Broadhurst rounds out the threesome.
Woodland tees off at 1:26 p.m. with 2017 Masters Champion Sergio Garcia and rising talent Kevin Kisner.
Vermeer's two-stroke victory on the Bayonet Course in Seaside, Calif., in the PGA club professionals tournament not only earned him a spot in the year's final major and a couple of rounds with Daly, it also garnered him $55,000, the Walter Hagen Cup and a spot in six PGA Tour tournaments next season.
It also gained him exposure. The event was televised on the Golf Channel.
"I've been busy," Vermeer said. "A lot of people have been calling for lessons because they saw that."
So busy, he might be able to get away with increasing the $95 fee he charges for a lesson without losing any business.
Vermeer should prepare for his phone to light up again, because on Tuesday morning, the TNT crew filmed him giving a short-game tip and told him that it would run at some point during the broadcast of the tournament.
For the second year in a row, Woodland made sure Vermeer didn't feel like an outsider. Earlier in the week, Vermeer played a practice round with Matt Kuchar and Woodland, same as last year.
"Gary plays with Matt all the time," Vermeer said. "He's really funny, actually."
At one point this week, Vermeer said he and Woodland were looking on their phones, trying to guess how much money fellow Jayhawk Chris Thompson will need to make in the final two tournaments of the Web.com regular season to crack into the top 25 and earn a PGA Tour card for next season.
At last year's PGA Championship, Vermeer and Woodland played nine holes with Dustin Johnson, widely regarded as the world's best driver of the golf ball.
"Gary hits it a long way, obviously, and Gary's got plenty more in the tank when he needs it," Vermeer said. "The tee shots Dustin was hitting typically were a little bit longer than Gary's. To see someone who hits it longer than Gary was pretty interesting."
Vermeer doesn't move the ball the way they do, but does have a reliable driver and a putter that can get very hot for stretches.
Myles Shonsey, 21, a student of Vermeer's for the past four years, will serve as his caddie, but the golfer will read his own putts.
"I do everything on my own, but this gives me another set of eyes to bounce things off of: 'Do you agree?' 'Do you disagree?' He'll double-check yardages," Vermeer said.
Some touring pros take obsessive notes during practice rounds, but Vermeer takes a different approach.
"For some of these guys who are in tournaments week in and week out, all the work they put in with their caddie is very beneficial. But for me, it's a rare occasion I'm playing with a yardage book," he said. "I take a certain amount of notes, visually look over stuff, where you want to hit from, but if I were to go too in-depth, it would be detrimental for me."
He said he keeps it simple because to suddenly change his approach would throw him off.
"Know where stuff is and hit it in the right spot," Vermeer said. "If I'm thinking about too many other things, I'll be lost."
Vermeer enjoyed interacting with spectators Wednesday. As his chip from the rough next to the fifth green somehow lipped out, the gallery groaned, prompting Vermeer to tell them, "I'm saving it for tomorrow."