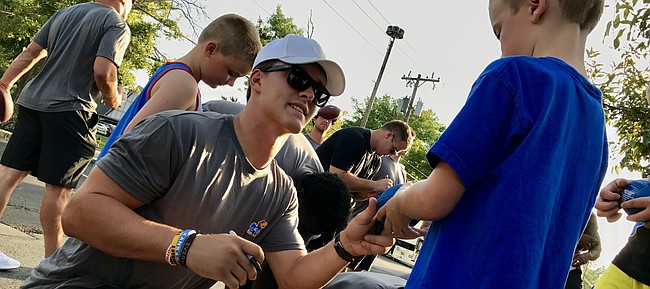 Before the Kansas football team makes its season debut Sept. 1 against Nicholls State, fans around the Sunflower State will have chances to hear from and meet some members of the program at a series of rallies this month.
The mini tour begins Thursday in Topeka, with the first KU Kickoff set to take place at 6 p.m. outside the the Celtic Fox, an Irish pub and restaurant at 118 SW. Eighth Ave., in downtown Topeka.
KU chancellor Douglas Girod, football coach David Beaty and soccer coach Mark Francis will speak, while Brian Hanni, the play-by-play radio voice of the Jayhawks, will host the event in Topeka.
New KU athletic director Jeff Long will join Girod and Beaty at the next stop, in Wichita, at 6 p.m. Aug. 15, at Beech Lake, off 13th St. and Webb Road.
The 13th annual KU Kickoff at Corinth Square is set for 6 p.m. Aug. 17, inside the Corinth Square Shopping Centre parking lot, in Prairie Village. Girod, Beaty and Long are scheduled to appear, along with the KU Alumni Association's Heath Peterson. Jayhawk Radio Network football analyst David Lawrence will host the event.
The final KU Kickoff will come in Lawrence, outside David Booth Kansas Memorial Stadium, from 2-4 p.m. Aug. 25. Football players will sign autographs beginning at 3 p.m. A fun zone for children will be set up on Kivisto Field and will open at 2 p.m. Food trucks will be set up around the stadium.
Parking for the KU Kickoff in Lawrence is free. Fans attending the event are encouraged to park on the east side of DBK Memorial Stadium in Lots 91 and 94.
The kickoff celebrations will feature food, music, promotional items, the opportunity to win tickets and more. The KU band and spirit squads will be in attendance at the various locations.