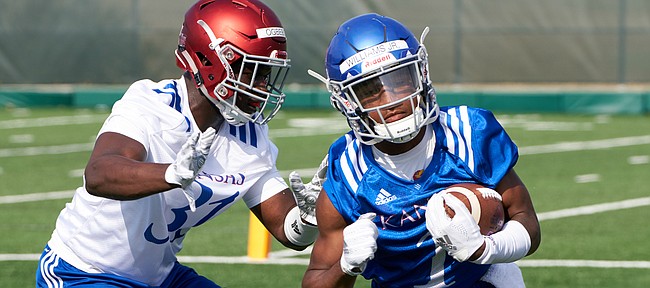 This past Saturday night at the Mercedes-Benz Superdome in New Orleans, former Louisiana prep football star Pooka Williams was recognized at the Greater New Orleans Male Amateur Athlete of the Year during the Allstate Sugar Bowl's Greater New Orleans Sports Hall of Fame Banquet.
It was an event, of course, Williams couldn't afford to attend. Louisiana's reigning Mr. Football, following Williams' electrifying senior season at Hahnville High, now calls the Sunflower State home. And he has been too busy at Kansas preseason camp the past several days — showing off the skills that made him a hit in "The Boot" — to make a trip back home.
At the Jayhawks' first practice this past Friday, redshirt senior quarterback Peyton Bender said Williams showed flashes of the skills that allowed him to rack up 3,128 yards and 37 rushing touchdowns as a high school senior.
One play-call sent Williams out of the backfield on a wheel route and on an under-thrown ball the athletic back, listed at 5-foot-10 and 170 pounds, went over the top of the linebacker covering him to, as Bender described, pluck a reception off his defender's back.
"And then he just turned and kept running," recounted Bender, an observer on the snap, not the passer. "It was nice. Very athletic play."
When KU offensive coordinator Doug Meacham spoke with reporters this past weekend, he only had witnessed the young running back go through two college practices. But the man in charge of scheming ways to get Williams involved, as the true freshman does his best to complement junior Khalil Herbert and sophomore Dom Williams in the backfield, couldn't dismiss Pooka's obvious talent.
"He has some really nice traits to him," Meacham said of KU's touted back from Louisiana. "With his size you kind of have to get into the whole durability thing. And he's a freshman. But he has a lot of skill from what I can tell. I don't suspect when the pads come on he'll be any different. He just seems like that kind of guy. He definitely has confidence. That's a lot of it."
Williams arrived at KU with a four-star rating from Rivals, which ranked him the sixth-best all-purpose back in the Class of 2018. His new head coach, David Beaty, when asked recently what Williams will mean to the Kansas, made sure to reference how many other programs tried to sign him.
"This kid never wavered," Beaty said, smacking the table behind which he sat for emphasis. "He wanted to be a Jayhawk. He wanted to be a guy that was a builder, and he never wavered."
The fourth-year KU coach also credited Williams for putting himself in position to gain immediate eligibility out of high school.
Now that Williams is at KU instead of LSU, Mississippi State, Nebraska or some other more successful program, Beaty is grateful, because he thinks the back who will wear No. 1 for the Jayhawks this fall could turn out to be a "special" player.
"I think the challenge for us is to make sure we don't overload him as a young guy," Beaty shared. "And make sure we do a really good job of seeing what he can handle and make sure we put him in position to be successful. Get the ball in his hands in areas and spaces where he has space to work, because that's where he's really dangerous."
There have been hints that KU will both hand the ball off to Williams and throw it to him as coaches figure out what type of load the undersized but speedy freshman can sustain.
Sophomore QB Miles Kendrick, who has worked out and practiced with Williams since the freshman got to Lawrence in June, anticipates a successful transition to the college level for the touted back.
"From Day One, Pooka's just been awesome. Outstanding athlete. Smooth runner. Very fast and very versatile," Kendrick related. "Open-field guy for sure. Can play in the interior, hitting those holes. He reads them well," the QB added. "His cuts are just natural. Just getting him the ball in space whatever ways we can, I think he's gonna have a big impact for us."
Just how much Williams is able to accomplish this season and beyond remains to be seen. But he seems as fast to make a great first impression as he looked running away form defenders in his numerous high school highlight videos.
'You can tell he kind of has the knack for finding the hole," Bender imparted. "He kind of has that natural vision from the backfield, and then also he can catch the ball."