University of Kansas punter Kyle Thompson called what led him to become a punter "actually a pretty funny story," but nothing about his expression hinted at humor when he told it.
Neither Thompson's eyes nor lips smiled.
"When I was in eighth grade as a soccer player I actually got bullied," Thompson said. "I got bullied a lot in middle school. They were actually football players who were bullying me, harassing me and calling me names, calling me all sorts of things."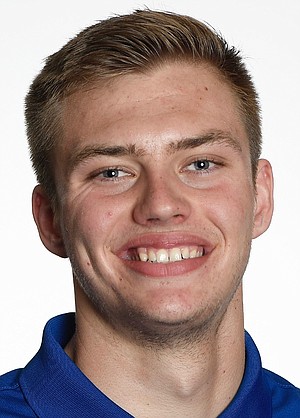 Thompson couldn't wait to get home to his mother, but not to seek cover from the bullies. Quite the contrary.
"I begged my mom to let me play football so I could prove them wrong," Thompson said. "She said, 'You're not playing football.' I said, 'I really want to.' My freshman year, she ended up letting me."
Mother, a lifelong Chargers fan, and son reached a compromise.
"She told me I could either be a long-snapper or a kicker," Thompson said. "My mother's very sweet and she didn't want me out there getting hurt."
He enrolled at Santana High and went out for the freshman football team as a kicker and punter.
"I was a soccer player from the time I was 4," Thompson said. "I thought I knew how to kick a ball. When I started off, it didn't go well. I kept training my freshman year, got a little better and started on the freshman team."
Thompson thought he had the ability to improve enough to punt in college, but he needed game video to prove that, and that plan hit a snag. He said the varsity coach had decided to use someone else.
"I talked with my parents about it and they told me if I was really passionate about it, I could switch schools," Thompson said.
He transferred to the more expensive Christian High, where he became a college football prospect.
Thompson has been on full scholarship since his freshman season, so it's with mixed emotions that he reflects on the bullies from his past.
"You have to prove people wrong," he said. "Looking back, kids are mean at a young age. People talk about if they could go back and change, well, I wouldn't change anything because I wouldn't be in the position I'm in now if it weren't for them."
The position he is in is at the top of the punting depth chart, majoring in psychology with a minor in business with long-range plans to attend law school.
In sharing his story, he's also lending comfort to those victimized by bullies, reassuring them that life's ultimate battles aren't won or lost in the sometimes cruel schoolyard.