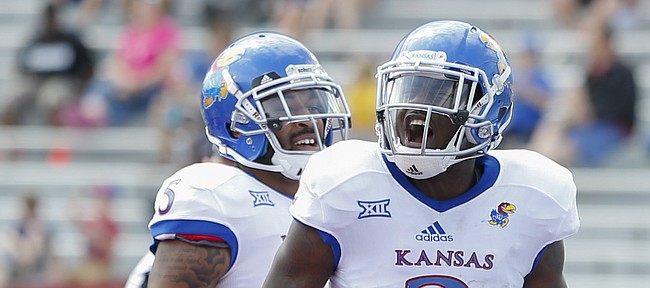 Write off Daylon Charlot at your own risk, but before doing so, consider something just one more time.
Alabama's Nick Saban, worthy of a bust on the all-time Mount Rushmore of college football coaches, wanted him to play for the Crimson Tide not just once, but twice.
Saban gave Charlot a scholarship out of high school and when the wide receiver informed him he wanted to transfer, Saban tried to talk him into staying.
Any coach who wins six national titles doesn't make too many mistakes evaluating personnel.
So what happened to Charlot last season, a year after he drew consistent praise from Kansas coaches for his attitude during his redshirt season? He caught one pass for no gain, was switched to safety late in the season, and is back at wide receiver for his junior season.
What went so terribly wrong with a player who arrived at KU with so much fanfare?
Based on Media Day interviews with Charlot, assistant coaches and teammates, the best answer is that it was a combination of factors including a knee injury that was kept secret and contributed to less than ideal conditioning, difficulty picking up on the nuances of the Air Raid offense, and the need to mature.
Looking for a sleeper to contribute big things for the Jayhawks in 2018? Why not Charlot?
"My confidence level is at a 10," Charlot said Saturday. "I'm taking care of my business every day. I plan on having a great camp and taking care of my body so everything can turn out great for me this season."
His body wasn't right, last season, Charlot said.
"I had a bad injury," he said. "I sprained my knee and it put some weight on me when I had to sit out for a few weeks. Now I'm back and healthy, 100 percent. I gained a few pounds, but I'm back at where I want to be now."
Quarterback Carter Stanley said he has noticed a big difference in his potential target.
"Daylon's a special player," Stanley said. "He had an unfortunate nagging knee injury last year. He didn't look right. He looked really good in spring last year and even in fall camp and then he kind of had that injury and it set him back for sure. He looked good this spring and he's looked good this fall camp so far."
How good?
"Pretty good," Stanley said. "He's kind of different from some of the receivers that you've seen out of us in the past. He's kind of a mix of a lot of them. He's kind of like a mix between a (Jeremiah) Booker and Steven Sims. He's a special player, and I like throwing him the ball."
Quarterback Miles Kendrick's view of Charlot: "I see a guy who's just waiting to explode and just really show everyone the kind of baller he is."
Kendrick joined the program from junior college at the semester break during the 2017-18 school year.
"I told him the other day I feel like he's had a great summer, transitioning from spring ball to summer," Kendrick said. "When we'd do player-led practices I really saw a difference in his focus, the way he was just moving. You could just tell there's a little different type of pep in his step. I think he's excited and he's ready to have a great season and contribute to the offense hugely."
Offensive coordinator Doug Meacham coached wide receivers last season, but has shifted to coaching quarterbacks. He said he has noticed a change in the receiver he didn't use much.
"It seems like he pays a attention to detail a little bit more, is a little bit more conscientious about his conditioning, his body and stuff like that," Meacham said. "I think he's one of those guys who was kind of gifted early on in his life and kind of got it done, and I think that caught up to him a little bit. And then he got frustrated. And there was all the hype, and he's on the cover of the magazines and stuff and didn't do anything. Now there's a twinge of maybe embarrassment along the way. But I think he's grown up a lot."
Tony Hull coaches running backs, but also takes it upon himself to nurture the spirits and confidence of all Louisiana natives on the roster.
"Daylon had a really tough time last year with the way he performed on the field," Hull said. "However, I commend him on the way he worked through it. I commend him on the way he persevered. I commend him on the way he handled it because you can't ask a 20 21, 22-year-old kid to handle it the way he did. We expect big things out of him this year. However, as a big brother, father figure to him, I am extremely excited and extremely happy how he persevered through him struggling on the field last year. I think it will help him overall as a man. Whenever his football time is over the lessons he learned from last year he can carry on through life."
As for his football gifts?
"I think he's an extremely good talent," Hull said. "I think Daylon has made tremendous strides over the past year and a half."
How so?
"I think he understands now what it takes to be successful here," Hull said. "The previous system he comes from it was just run fast straight and we'll get you the ball. Whereas this one, you have to understand coverages, you have to understand is it press is it soft coverage, a whole bunch of intricacies he didn't understand coming here. I think now, along with his physical gifts, he's made strides to be successful."
Charlot's stock was high a year ago at this time. Selling would have been a good move. His stock is low now. It's probably a good time to buy what people are saying about him making positive changes.