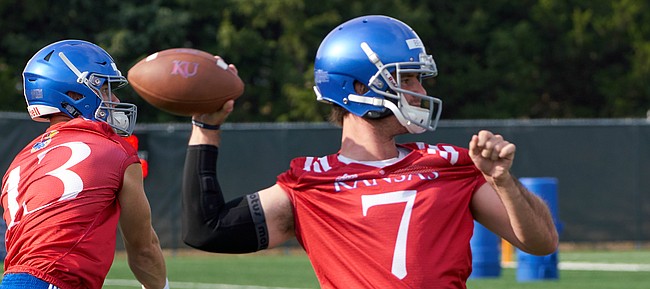 Accelerated though it may prove to be, the quarterback competition at Kansas football preseason camp remained nowhere near resolved on Saturday.
No hints of a leader. No sense of separation.
After all, starting QB candidates Peyton Bender, Carter Stanley and Miles Kendrick only had two August practices behind them when players and coaches gathered Saturday inside Anderson Family Football Complex to provide their accounts of the program's current state of affairs during the team's media day.
Fourth-year head coach David Beaty, who declared in mid-July his plan to settle the QB race promptly, extolled the virtues of that strategy while predicting he and offensive coordinator and quarterbacks coach Doug Meacham should be able to choose the starter in "the next couple of weeks."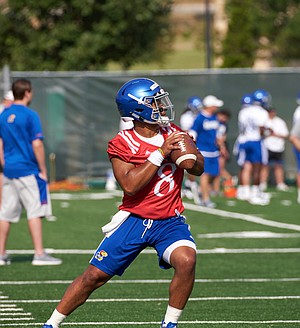 The formula, of course, won't work unless one of the incumbents, Bender and Stanley, or the newcomer, Kendrick, emerge as the distinct man for the job.
"I think there would be a huge advantage if you are not just doing it to do it," Beaty said of selecting the starter on the double, rather than letting the competition continue throughout the month. "If you're doing it for a good reason, it would be a huge advantage. The good reason being that he clearly is the guy that's going to be the leader."
Added the coach: "You do that based off what you see, not what you hope for. Hope, it doesn't carry you very far. We have to make sure that we see that the guy can take care of the ball, lead our football team. That's the big thing."
The first player to walk in for interviews Saturday, sophomore Miles Kendrick was the first of the three contenders to weigh in on the battle.
"We've been going about it the same way since the spring," shared Kendrick, who started nine games, passed for 1,889 yards and 18 touchdowns and nine picks, while rushing for 417 yards and five TDs at at College of San Mateo (Calif.), in 2017.
"Kind of just trying to get each other better and do our job as best as possible," Kendrick said of their collective approach to it all. "And really just whoever gets whatever reps, just take advantage of those reps and try to put some good stuff on tape."
Bender started the 2017 opener and eight games in total, completing 54.2 percent of his 273 passes for 1,609 yards, with 10 touchdowns and 10 interceptions. He said the quarterbacks will really start feeling the urgency of the situation soon.
"Last year it definitely played out. This year, up to this point, it's only been two practices. We aren't in pads. It's been similar up to this point," Bender began, reflecting on the two-man race of a year ago between him and Stanley. "It's a little bit different with three guys — you're getting rotated in and out a little bit more and you don't get as much reps. But at the end of the day, I try not to pay attention to all of that. I've always said this: I just go out there and try and compete with myself. Go out there and try to pick something to improve on each day, where I can just try and work at that to get better at. Eventually, if I can put together days where I'm just working on one thing to get better, then it's gonna make me a better player and improve the team, so just trying to work on that."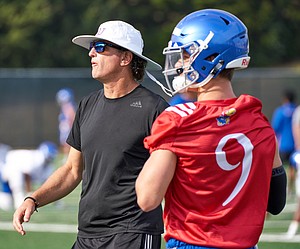 Now a redshirt junior, Stanley started four games in 2017 before missing the finale due to injury. Playing in nine games overall, he connected on 54.6 percent of his 185 throws for 1,108 yards, with four TD passes and seven picks.
Stanley appreciates the approach KU is taking with its quarterbacks at camp.
"If I was the head coach, I think I would want to name a starter sooner, just because I think it's an opportunity for the team to get behind one guy and for that one guy to get true number-one reps going in two weeks before the game or whatever," Stanley said.
"I think we've just got to see how it plays out," he added. "I'm gonna be out there competing everyday. Those guys will, as well."
Meacham, preparing for his second season overseeing KU's offense, made it clear the QB who ends up atop the depth chart will be the one who proves he can produce. The coaches aren't rushing to name the victor, Meacham said, solely to put the players' minds at ease.
"There's the whole 'rally-behind-a-guy' thing and then there's 'let's just figure it out and make the best decision.' I think making the best decision is a lot more important to me than, gee, let's pick someone early and hope our guys can rally behind a guy," Meacham said.
"We just want somebody that takes care of the football. Guy who touches the ball every play needs to be able to take care of it. Be accountable to all the other guys," he went on. "I put a little bit more on that than let's throw a guy in there and name him so he can 'take the team.' I think we need to make sure we pick the right guy."
As the coaches continue to observe and evaluate, Beaty still thinks the QB battle will shake out quickly. And he surmised the benefits of a swift resolution already are showing up.
"I've seen a renewed sense of competition between those three guys that I think is really, really good," Beaty reported. "I've seen a lot more of a student approach to the game because of that renewed sense of competition."