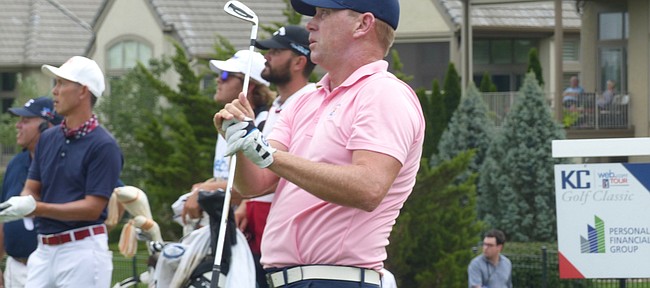 Overland Park — The skies darkened and the wind kicked into another gear late Saturday afternoon, making the possibility that Chris Thompson's round, which had been a bit of a grind to that point, might be interrupted, making for a long day.
The storm clouds took a turn to the north of Nicklaus Club at LionsGate and Thompson's third round of the KC Golf Classic took a turn in the same direction up the leaderboard.
In the late stages of the best golf season of his life at the age of 42, Thompson needed to drain a 10-foot putt to give himself a birdie, birdie, birdie finish.
Thompson said he read the right-to-left putt about a cup outside. His caddie, Chevy Hartzog, read it as a right-edge putt.
"Chevy nailed it once again," Thompson said. "I put it right on the right edge and it just barely broke into the cup."
The fantastic finish gave Thompson a 67 and enabled him to head into Sunday's final round tied for third at 15 under par, six strokes behind leader Kyle Jones, five strokes behind Sepp Straka and tied with Bo Hoag, who also birdied the final three holes.
"Good way to finish," Thompson said. "I was just kind of treading water out there. I couldn't make anything happen. The guys in the last group were going crazy and I couldn't make any birdies, couldn't get it close, wasn't making any long putts. It was just a lot of pars, so to salvage a 4 under out of that was pretty good. I'm going to be pretty far back, but it least it keeps me in the game."
A native of Independence, a two-time All-American at Kansas and a resident of Lawrence, Thompson headed into the KC Golf Classic ranked 43rd on the Web.com money list, known as "The 25" because the top 25 finishers earn PGA Tour cards for next season. If he stays at tied for third with Hoag, Thompson would move to 29th on "The 25" with two tournaments remaining.
"I thought with this wind 3 or 4 under would be a pretty good score, but it's looking like that's not going to be the case, but I did all I can do," Thompson said. "You never know, a lot of things can happen on the last day, so I'll be here."
A lot of things can happen on the last few holes of a round. As Thompson's Saturday playing partner Jin Park told a friend moments after finishing his round, "Golf is hard."
Thompson and Park both stood at 12 under for the tournament with three holes remaining. From that point, Thompson gained three strokes on par and Park lost three strokes to par, and heads into the final day tied for 22nd at 9 under.
Jones shot 63, Straka 64 on Saturday, to put some distance on the pack. Twenty-one golfers in the field stand at 10-under or better.
None of those 21 received as much attention from the spectators as Thompson.
Some of the same University of Kansas fans who were in the grandstand behind the No. 17 green in Wichita six weeks ago when Thompson buried a 20-footer to trigger an ovation were in a similar seats on No. 17 Saturday.
Wearing the Jayhawk logo over his heart on a pink Jayhawk Club golf shirt, Thompson made the crowd go wild when he stuck his 8-iron 2-feet in front of the cup. The crowd let him hear it again when he made the short birdie putt and those in the 18-green grandstand roared for him when he dropped his third consecutive birdie putt.
"It's fun," Thompson said of those moments. "It's obviously a pro-KU crowd."
Hong and Thompson tee off at 12:50 in Sunday's final round.