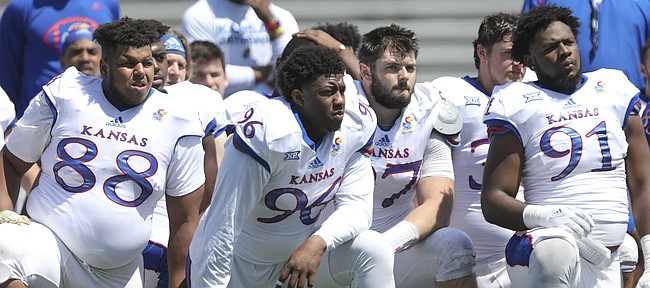 Only a few months remain in Daniel Wise's college football career. And the redshirt senior defensive tackle at the University of Kansas would like to cram as many successes as possible into them.
What does the preseason first-team All-Big 12 defender have left to achieve? "A lot," Wise will tell you bluntly, especially when considering the Jayhawks' numerous losses during his time in the program.
"There's a long list of things that I would like to accomplish, that we want to accomplish," Wise said. "Just to win. Just to win week in and week out. Our goal is to go to a bowl game and be the best that we can be for KU fans, KU nation and all that."
Wise arrived in Lawrence in 2014 from Lewisville, Texas, and took a redshirt season as the team went 3-9. His three years as an active player have coincided with head coach David Beaty's time in charge, as the program has struggled, losing 91.7 percent of its games.
Talk of a bowl appearance surfaced a year ago, too, and KU finished 1-11. So Wise realizes trying to speak something into existence isn't enough. He also thinks at this stage, his fifth year in the program, he already has witnessed the lowest of lows. The 6-foot-3, 290-pound defensive lineman doesn't want to experience more déjà vu in the months ahead.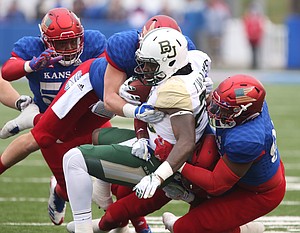 One man's ability and drive, of course, will only do so much as the Jayhawks attempt to ascend out of a gloomy era for the program.
Wise trusts that fellow veterans such as redshirt senior linebacker Joe Dineen, senior receiver Steven Sims Jr. and junior running back Khalil Herbert are prepared to play at a higher level this season than they have in the past, as well.
Both Wise and Dineen have proven outspoken in sharing their belief that KU's defense, which surrendered 468.3 yards and 43.4 points per game a year ago, can become one of the better defenses in the Big 12. The unit has nine returning starters in place for 2018, and Wise thinks experience alone will enhance KU's defense measurably.
Since the end of last season, Wise has been impressed with the marked progress of a few defensive teammates, including junior safety Mike Lee, who is "always stepping his game up."
Up near the line of scrimmage, where Wise makes his impact, he said defensive tackles J.J. Holmes and Isi Holani consistently stand out.
Then Wise presented a bit of a wild card, while distributing praises.
"Shaq Richmond has been injured here and there," Wise said of the junior safety from Dallas, who played in just six games in 2017, "but if he has a healthy year, I'm telling you, he's gonna have a great year."
Wise's conviction in KU's ability to compete isn't limited to his side of the ball, either. The tackle who will spend August repetitions combatting the team's offensive linemen identified juniors Hakeem Adeniji, Antione Frazier and Andru Tovi, as well as sophomores Chris Hughes and Malik Clark as returning players up front wiling to make a difference.
"Those guys are just hungry," Wise said, "and ready to continue to work even harder than they did before and continue to prove people wrong."
And the team leader couldn't file away his inventory of reputable Jayhawks without mentioning senior receiver Jeremiah Booker.
"That's another kind of man. He's a machine," Wise said. "He works so hard I don't think he sleeps."
Coaches have raved about Wise's work ethic for years. Now his games remaining in a KU uniform are numbered.
"It's all in at this point. It's been all in, but obviously it's the last go-round, so it's definitely all in," Wise said of his mentality. "Just gonna continue to push, continue to fight and work harder and be smarter and just fine-tune the little things and obviously get those wins."