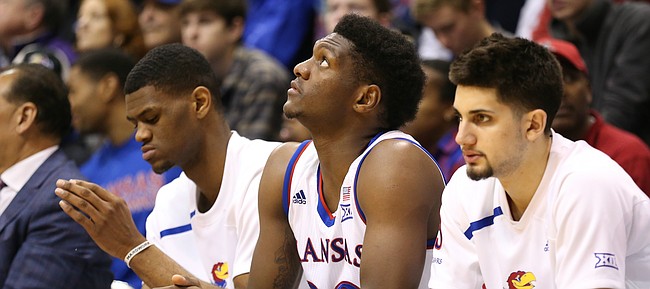 Late last month, Sam Cunliffe became the 17th Kansas basketball player to the leave the program for another Div. I opportunity during Bill Self's first 15 years at Kansas.
That number, which does not include players who left basketball altogether, has been balanced out by Self bringing in 14 Div. I transfers during that same time.
Three of those players — forwards Dedric and K.J. Lawson and point guard Charlie Moore — are on the 2018-19 roster and the Jayhawks are hoping that that trio will enjoy the same kind of success that players like Malik Newman, Tarik Black and Jeff Withey experienced in the past.
"These guys will all be terrific players here," said Self shortly after the end of the 2017-18 season of the Lawson brothers and Moore, who all transferred to KU in April of 2017.
While that certainly is the hope for every player that Self and his coaching staff bring to campus, factors exist that do not always make that possible.
From limited playing time to struggling to adapt to the culture and everything in between, the 17 transfers who have left KU have done so most often in search of a better fit.
"Being here, man, I'm telling you, it humbles you a lot," Cunliffe said about a month before announcing his departure.
Cunliffe, who announced Tuesday that he was transferring to Evansville, is the latest example of one of the hard, cold facts that comes with playing at Kansas. Not every player the Jayhawks sign turns out to be the next Frank Mason III, Devonte' Graham or Landen Lucas, program guys who make the most of their four or even five years in Lawrence and put in a ton of work along the way.

But, as evident by the number of transfers Self has welcomed into his program, it's not just Kansas that has seen a high number of departures during the past couple of decades.
According to a study conducted by the NCAA, the results of which were released last December and updated last month, 40 percent of men's basketball players who enter a Div. I program directly out of high school depart their initial school by the end of their sophomore year.
Shortly after landing Moore and the Lawson brothers — along with former William & Mary grad transfer Jack Whitman, who left KU without ever playing and did not continue his playing career after that — Self discussed what some have deemed "an epidemic" in college basketball.
"It's not the coaches running guys off," Self told the Journal-World last spring. "It's a societal problem. How many kids switch high schools when things don't go well or how many kids drop a class if they flunk the first test? People want immediate results and a lot of times that can't be the case for all 13 on scholarship to get immediate results."
The recent NCAA study on college basketball transfers also addressed that issue, examining where the 689 transfers who changed addresses prior to the 2017-18 season ended up after leaving.
According to the study, 48 percent went to another Div. I program, 26 percent went to the NAIA or junior college route and the remaining 26 percent transferred to Div. II or Div. III programs.
History shows that good things could be ahead for Cunliffe. Of the 17 players who have left Self's program to pursue other Div. I opportunities, nine went on to play meaningful minutes at their next school, with four of them doing it at programs that have made the Final Four in the past six seasons.
By comparison, four of the 14 players who have transferred to KU have played meaningful minutes for the Jayhawks, though that number figures to rise to seven, with both Lawsons and Moore all expected to be a part of the rotation during the upcoming season and perhaps beyond.
Prior to his decision to leave Kansas, Cunliffe said he felt his down time with the program, during his redshirt year, had prepared him to compete for a regular role. Newman, who sat out the 2016-17 season after transferring to KU from Mississippi State, said the same thing prior to starting 33 of 39 games for the Jayhawks during their run to the Final Four last season.
Redshirting during a transfer year is far from the only path to success at Kansas. But because it has worked out for a handful of players in the recent past, it continues to be a motivating factor for athletes on both sides of the coin.
Said Cunliffe before leaving: "The thing about coming here, last year especially, those guys that were in front of me had been here. And now, for me, looking at the guys coming in, I feel like I have an advantage just from knowing things and being here and knowing what coach wants. I'm not saying those other guys can't play, it just helps you out a lot to be able to know those things. Especially here because coach pays attention to so many details."
Added Dedric Lawson earlier this summer: "Coach (Self) made it easy for me to sit out. He always made us feel a part of the team and he made us travel and things like that. Overall, it was a pretty good sit-out year."
The following is a quick list of the Jayhawks who either came to KU from another Division I school or left Kansas for another Division I school during Self's 15 years in Lawrence.
Transferring In (14)
Rodrick Stewart – 2006 – USC
Jeff Withey – 2009 – Arizona
Justin Wesley – 2010 – Lamar
Kevin Young – 2011 – Loyola-Marymount
Hunter Mickelson – 2013 – Arkansas
Tarik Black – 2013 – Memphis
Dwight Coleby – 2015 – Ole Miss
Evan Maxwell – 2016 – Liberty
Malik Newman – 2016 – Mississippi State
Sam Cunliffe – 2017 – Arizona State
Dedric Lawson – 2017 – Memphis•
K.J. Lawson – 2017 – Memphis•
Charlie Moore – 2017 – Cal•
Jack Whitman – 2017 – William & Mary
Transferring Out (17)
David Padgett – 2004 – Louisville
Omar Wilkes – 2004 – Cal
J.R. Giddens – 2005 – New Mexico
Alex Galindo – 2005 – Florida International
Micah Downs – 2006 – Gonzaga
C.J. Giles – 2006 – Oregon State
Quintrell Thomas – 2009 – UNLV
Royce Woolridge – 2011 – Washington State
Milton Doyle – 2012 – Loyola (Chicago)
Merv Lindsay – 2012 – New Mexico
Anrio Adams – 2013 – Ohio/Eastern Kentucky
Zach Peters – 2013 – Arizona
Andrew White III – 2014 – Nebraska/Syracuse
Conner Frankamp – 2014 – Wichita State
Carlton Bragg Jr. – 2017 – Arizona State/New Mexico
Dwight Coleby – 2017 – Western Kentucky
Sam Cunliffe – 2018 – Evansville