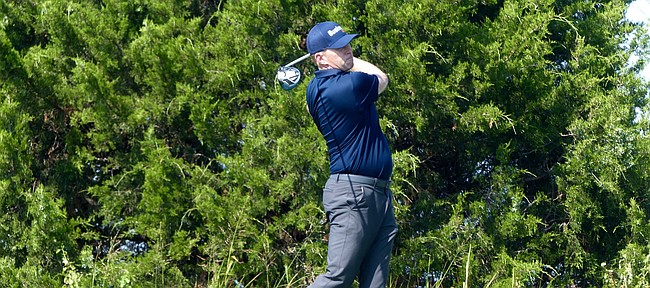 Overland Park — The KC Golf Classic needed someone to step forward and become the man the average fan would take interest in following.
Playing in his first golf tournament in five years to tune up for the Champions Tour he will join later this month, former PGA Tour standout Chris DiMarco brought some curiosity seekers his way, but had a rough second round Friday and missed the cut.
Lawrence resident Chris Thompson, 42, a two-time All-American at Kansas, stepped up to fill the breach. This is his second season on the tour that is one notch below the PGA Tour. The first one came 11 years ago, and he didn't play well enough to keep his card for the circuit then known as the Nationwide Tour. He has earned enough money ($105,216) to ensure he'll be on the Web.com Tour next season, but is gunning for the ultimate prize. The top 25 finishers on the money list earn PGA tour cards. With three tournaments remaining, he entered the week ranked 43rd. The four-tournament Web.com playoffs presents another avenue to the PGA tour.
It will take for him to get there, but Thompson showed Friday he has the game to make it happen.
Driving it straight and putting it great, Thompson fired a 7-under-par 64 to drop to 11 under midway through the Web.com tournament.
Playing the back nine of Nicklaus Golf Club at LionsGate first, Thompson drained a 25-foot birdie putt on his third hole, No. 12, sending him on a five-hole tear in which he was 6 under par. The inferno included a chip-in eagle on a par 5.
Coming off a tie for third place in Springfield, Mo., the highest Web.com Tour finish of his life, Thompson battled through a crooked driver on the back nine Thursday and managed to finish 4 under par, thanks to strong short-game play. He and caddie Chevy Hartzog headed to the range after that round to work on straightening his drive and continued on that theme at the range before Thompson's early morning tee time.
"I thought we finally got the driver figured out on the range, and then I get up on the first tee (No. 10) and wipe one into the hay," Thompson said. "That was disappointing because that's an easy hole."
He made bogey, which he didn't do for the rest of a day that included six birdies and an eagle. He only missed the fairway off the tee a couple of times after his first drive, and not by much.
Thompson spent parts of the day in a tie for first place and was in a tie for second when he finished his round. Several players who were ahead of him the first day were just getting started with their second rounds or hadn't yet teed off, so he was bound to drop some on the leaderboard but remain in touch with the leaders.
He has his driver, his caddie and his putter to thank for contending.
"We got my alignment a little bit better, my posture a little bit better and when those things are good, I turn better," Thompson said. "I feel like I got the club right where I wanted it and drove it fantastic. When you can drive it like that out here, you're going to give yourself a lot of chances."
Thompson says "we" routinely these days, which is a sign that he has found a caddie who is having a positive impact on his game.
The Web.com Tour schedule took Thompson to Greer, S.C., in mid-May for the BMW Charity Pro-Am. Chevy Hartzog was looping for Thompson's amateur partner in the event. Thompson was so impressed with Hartzog's ability to read greens and with his demeanor that he asked him if he would be interested in caddying for him on a regular basis. Hartzog, who until recently had been an assistant coach at a small college in South Carolina, had been looking to take a stab at making a profession out of caddying.
Starting with the Wichita Open (June 21-24), Hartzog has been on Thompson's bag in every event.
Heading into Wichita, Thompson had missed two consecutive cuts and ranked 60th on the money list. His finishes with Hartzog reading his putts: tied for 16th, tied for 16th, cut, tied for 42nd, tied for third last week.
"I have so much confidence in my putter right now, and in Chevy's reads, I feel like I can make just about every putt," Thompson said.
Green after green, Thompson charged the cup aggressively, a few times rolling it 5 feet past. He routinely hit the center of the cup on the second putts.
"They're a little bit faster than they look," he said of the greens. "I'm hitting the putts a little bit too hard, so I need to work on my speed just a little bit. This is as aggressive as I've putted ever in my life and I'm going to keep doing it. If they go in great. If not, I feel like I'm going to make them coming back."
Thompson enters today's third round in a tie for fifth place, two strokes off the pace set by Kyle Jones and Sepp Straka. Thompson tees off at 12:40 p.m. and plays with Jin Park.