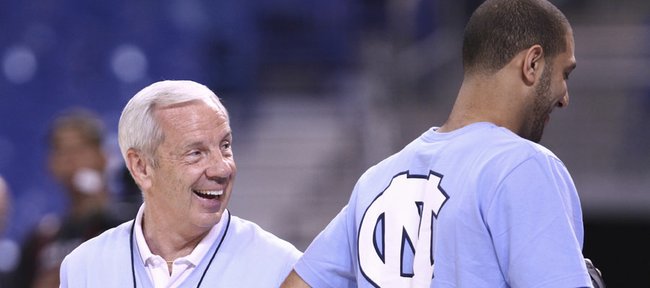 In a different world, a similar move could have happened at Kansas.
Instead, it's the University of North Carolina that will name its basketball court after long-time Tar Heels basketball coach Roy Williams, the school announced Thursday.
Three weeks from today, during a Carolina Basketball reunion in Chapel Hill, N.C., Roy Williams Court at the Dean E. Smith Center will be dedicated, giving Williams a permanent place at his alma mater.
"It's very hard to believe; it's just so flattering," Williams said in a UNC athletic department news release. "I have to figure out a way to thank all my current and former players, because it may be my name on the court, but it really honors all of them because they made the plays.
"I also want to thank my family for all the support and love they've given me over the years. I've missed many family things over the years, and they were so understanding. Naming the court will be a thrill for my family. I'll try to say the right things to the former players, to my family and to the Carolina administration, but I don't know if I will be able to adequately state how grateful I am."
Williams, who coached at KU from 1989-2003, returned to North Carolina to coach his alma mater in 2003, following a six-year stint in which the UNC program struggled to maintain its place at the top of the college basketball world under Dean Smith replacement Bill Guthridge and then Matt Doherty.
The Tar Heels went 133-71 in the six seasons between Smith and Williams.
After leaving Kansas the second time the UNC job was offered to him, Williams two seasons later led North Carolina to a national title in 2005 and followed that up with NCAA titles in 2009 and 2017.
"Coach Williams is one of college basketball's greatest coaches ever," UNC AD Bubba Cunningham said in the release. "But I've come to see that the measure of the man is his integrity, his honesty, the manner in which he relates to and supports his players and the love he has for the University of North Carolina. He didn't want this honor, but his players and our staff wanted it for him, and that says so much about why we will forever celebrate the game of basketball at Carolina on Roy Williams Court."
Williams is the third active head coach in the Atlantic Coast Conference to have his team's playing surface named in his honor. Legendary Duke coach Mike Krzyzewski routinely leads his team onto "Coach K Court," and Syracuse's court at the Carrier Dome is named for long-time Orange coach Jim Boeheim.
Even if Williams had stayed at Kansas and maintained the level of success he delivered during his 15 seasons in charge of the Jayhawks (418 victories and an .805 winning percentage), KU, as it someday might with current coach Bill Self, would have had to find another way to honor Williams.
In 1997, during the school's 100 years of Kansas Basketball celebration — Williams' 10th season at KU — the floor at Allen Fieldhouse was named after James Naismith, the inventor of basketball and first head coach at Kansas.
Self, who is set to tip off his 16th season at KU this fall, has racked up 447 victories and an .823 winning percentage during his first 15 years as Williams' successor.
More like this story on KUsports.com