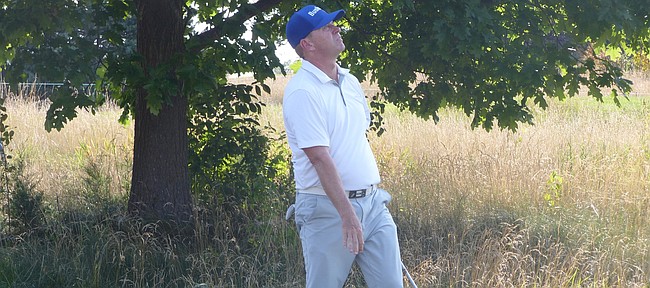 Overland Park — Chris Thompson, Lawrence's touring Web.com pro, gave himself ample reason to unravel late in his Thursday afternoon round at Nicklaus Golf Club at LionsGate.
In the last five holes, Thompson found three bunkers off the tee, drove one ball into deep, heavy grass way right of the fairway, missed a 3-foot putt and bladed a shot out of a fairway bunker way over the green, letting loose an uncharacteristic growl right about the time the ball bounded off the ground and hit a spectator just below the throat.
Here's what Thompson didn't do during that five-hole adventure that concluded his first round of the KC Golf Classic: Lose any strokes to par. His score was the same 4-under after 18 holes that it was after 13, thanks to finishing with a birdie on No. 18 after sticking a 138-yard 9-iron to 4 feet and making the putt.
"I think 4-under's a good score for the afternoon," Thompson said. "It's not a great score, but it keeps me in the game. It was looking like the wheels were starting to fall off there for a while, so it was looking like a 1-under or a 2-under, and to get it in at 4-under gives me some momentum going into tomorrow's round."
Thompson's 67 put him four strokes behind co-leaders Kyle Jones, Martin Trainer, Vince Covello and Bo Kim in a 12-way tie for 22nd place.
Thompson tees off his second round at 7:50 a.m. Friday.
"Greens are OK in the afternoon, but they got a little bumpy," Thompson said. "I think they'll be good in the morning. It seems like I made more long ones than I made short ones. I've been pretty clean from inside 4 feet the last five or six weeks and I missed three of them today, so that was a little disappointing. It was kind of a weird deal. Overall, I'll take it."
Thompson headed into the ninth hole at 3-under par, but bogeyed No. 9 after his shot from a flyer lie into the green came to rest on a hill above the green. He made a 12-footer for birdie on No. 11 and made a terrific chip to set up a birdie on 13, putting him at 4-under.
The ride became a little bumpy after that, but Thompson's trusty short game kept him from fading away.
From heavy grass way behind the 16th green, where the ball settled after hitting a spectator who was not injured, Thompson hit a flop shot to 10 feet and buried the putt to save par with a terrific up-and-down.
He said it wasn't the first spectator he has hit during his career.
"You always feel bad when you do that," he said. "You drive it in the rough as much as I do, you're going to hit people."
On the next hole, a par 3, Thompson hit his tee shot on into a deep bunker in front of the green and stuck his sand shot a foot from the cup, receiving an ovation from fans in the grandstand behind the 17th green, golf's designated "party hole."
The up-and-down on 16, the great sand shot on 17 and the birdie on 18 kept the wobbling wheels from flying off and kept Thompson in the hunt for a strong finish to the Web.com tour regular season. He headed into the second-last tournament ranked 43rd on the money list, known as "The 25" because the top 25 finishers earn PGA tour cards in 2019. A pair of top five finishes likely would get the job done for Thompson.
He then will compete in the Web.com playoffs, which will reward another 25 players, some from the Web.com tour, some from way down on the PGA tour money list, with 2019 PGA tour cards.