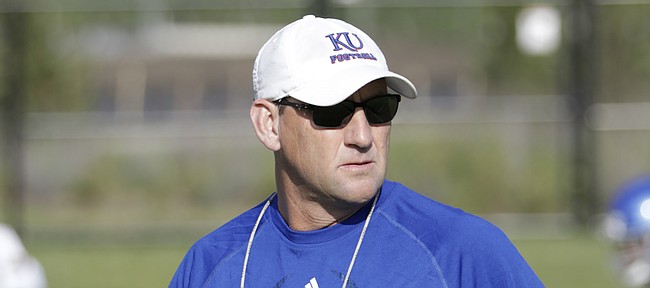 David Beaty's fourth season as head football coach at the University of Kansas officially kicks off in a little more than four weeks.
Between now and the Sept. 1 opener, his Jayhawks have no shortage of matters to address, from trying to perfect plays and techniques, to identifying the players most capable of turning KU into a competitive team.
It all begins Friday with the first practice of preseason camp.
Here are five storylines to track in the weeks ahead, as Beaty and his staff prepare their players for what they hope will become a breakthrough year for the long-struggling program.
Fresh spin on QB battle
What would preseason camp be without a KU quarterback competition? While identifying a starting QB has become an August norm in Beaty's time — and, really, dating back to Todd Reesing's days as a Jayhawk — this one at least feels different from its predecessors.
At least for the first few practices, not two, but three, different players appear to have a shot at winning the job.
A hot start will go a long way for either returning starters Peyton Bender and Carter Stanley, or sophomore transfer Miles Kendrick, too. Beaty already made clear he and offensive coordinator and quarterbacks coach Doug Meacham plan to act more quickly on their evaluations this time around.
The idea is to narrow the race to two with little delay. And, unlike a year ago, when Bender vs. Stanley lasted through the game week practices leading up to the season opener, KU's coaches intend to name a No. 1 QB as soon as possible.
Has Bender, a redshirt senior, developed enough in the offseason to go out as an effective Air Raid quarterback? Or will one of the QBs with running ability, redshirt junior Stanley or juco transfer Kendrick, better complement the surrounding personnel? The Jayhawks hope to land on the correct answer even before the season begins.
Can newcomers make impact?
While KU's coaches are glad to have 17 players who started a year ago still in the mix, every team, especially one that lost its final 11 games, needs an influx of talent to truly improve.
If the Jayhawks want to win more than three games for the first time since 2009, they need a number of their incoming transfers and at least a couple freshmen to prove themselves worthy of consistent playing time.
True freshmen from Louisiana, cornerback Corione Harris and running back Pooka Williams, may turn out to be two of the most talented players to come through the program in years. But it also could take a season or two for their potential to be realized. No one yet knows how much Harris or Williams will be trusted in the months ahead. If they live up to their recruiting rankings as early as this fall, both sides of the ball would benefit.
In the meantime, KU coaches need even more out of their junior college transfers immediately. Players such as cornerback Elijah Jones, defensive tackle Codey Cole, defensive ends Najee Stevens-McKenzie and Azur Kamara, and quarterback Kendrick were recruited not only to boost KU's depth, but also with the goal of putting a better football product on the field in 2018.
Plus, one of the most valuable players on the roster just might turn out to be a graduate transfer: senior offensive lineman Alex Fontana, formerly of the University of Houston and a potential starting center.
Defense looking to make leap
Internally, KU's veteran defensive leaders have high expectations for the unit heading into the season.
With redshirt seniors in defensive tackle Daniel Wise and linebacker Joe Dineen directing that confident approach, the defense plans on vastly improving after a disappointing 2017.
Citing the presence of numerous veterans — nine returning starters, including safety Mike Lee — Wise said "you can't beat" experience.
"Guys who have been in the grit of the game, who know the ins and outs and X's and O's. That just creates even more leadership from within," Wise remarked. "And with the young guys, cats coming in and with better communication overall with the coaches and with each other, (becoming one of the top-five defenses in the Big 12 is) what we should be able to get done."
A year ago, KU finished ninth in the Big 12 in passing defense (296.8 yards per game allowed), eighth in rushing defense (171.6) and 10th in total defense (468.3). However, the most talented players from the unit envision the hard lessons learned through those experiences making them better.
The defense needs to exert itself in August, with Wise and Dineen demanding the most from their teammates, for those aspirations to play out.
Overhauling the O-line
Underwhelming performances from KU's offensive line severely limited the Jayhawks' rushing and passing ability in 2017.
Now, former Missouri center A.J. Ricker coaches KU's O-linemen, and it will be up to him to strive toward turning a liability into an asset.
A new voice and mind for KU's blockers to learn from might be just what they needed, but that change alone won't magically upgrade the position group as a whole.
With junior tackle Hakeem Adeniji back healthy after offseason shoulder surgeries and experienced starter Fontana inside, Ricker at least has some veterans around which to build.
What Ricker is able to extract from the group during preseason practices will set the tone for the O-line's potential moving forward. And KU certainly needs to squeeze all the effectiveness it can from its offensive linemen.

Juniors Adeniji, Andru Tovi, Clyde McCauley III and Antione Frazier; senior Larry Hughes; transfers Fontana and Kevin Feder (Ohio State); sophomores Earl Bostick Jr., Chris Hughes and Malik Clark; redshirt freshman Joey Gilbertson; and true freshmen Nick Williams, Jacobi Lott and others will endeavor to give KU a competent offensive front.
Assistants' new roles
Even among KU's numerous experienced returners, the team needs far better individual performances in order for 2018 to go down as a year of progress or relative success.
By switching up the coaching responsibilities for some of his assistants early in the offseason, Beaty might have pulled off an under-the-radar valuable maneuver.
Meacham's coordinator duties haven't changed, but in his second year at KU, he's coaching quarterbacks instead of receivers. During his first season as O.C., Meacham never felt anywhere close to satisfied with the offense. With KU's quarterbacks working directly with him at all times, the offense may prove better off.
Likewise, KU's cornerbacks hope to get a boost from the constant tutelage of defensive coordinator Clint Bowen, who oversaw safeties previously.
KU's special teams — flawed in many facets, other than the presence of steady kicker Gabriel Rui — need a pick-me-up from reassigned assistant Kenny Perry, formerly the cornerbacks coach.
If KU's QBs, corners and special-teamers all look revitalized, that would be a nice starting point for a reversal of KU's fortunes.