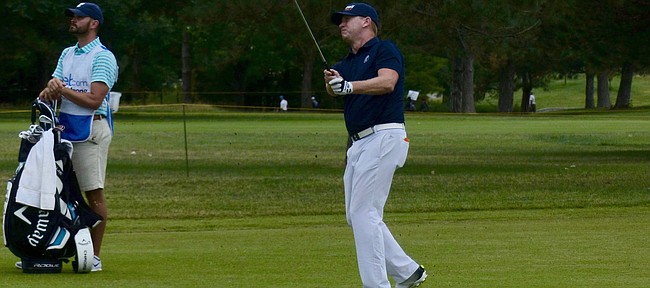 Lawrence resident, two-time Kansas golf All-American and touring Web.com pro Chris Thompson, 42, gets to sleep in his own bed for a tournament for a change this week.
The Web.com tour comes to Overland Park and Thompson tees off No. 1 at 1:05 p.m. Thursday in the KC Golf Classic at Nicklaus Golf Club at Lionsgate. Thompson is coming off his highest career finish in 90 events on the tour that is one step away from the PGA Tour. He finished tied for third last week at the Price Cutter Championship in Springfield, Mo.
Thompson's big week enabled him to move to 43rd on the money list. The top 25 earn PGA tour cards for the 2019 season. With two regular-season tournaments remaining, Alex Prugh ranks 25th with $148,911 in earnings. Thompson has earned $105,216 and $32,400 for finishing in a three-way tie last week, his third top 10 finish of the season.
Four tournaments played after the conclusion of the regular season make up the Web.com Finals. The top 25 finishers in cumulative money in those tournaments also earn PGA tour cards. Thompson is safely in position to compete in the finals. The top 75 finishers in the regular season earn spots in the finals, as well as exempt status next year on the Web.com tour in the event they don't qualify for the PGA tour.
Tickets ($25 for a weekly pass, $10 for a daily pass, free to children 14 and under accompanied by a ticketed adult) for the KC Golf Classic are available online at KCgolfclassic.com.
On the PGA tour, former KU standout and three-time tour winner Gary Woodland tees off No. 10 at 2:30 p.m. with fellow long-ball hitter Tony Finau in the Bridgestone Invitational in Akron. Woodland ranks 37th on the PGA tour money list.
Woodland and former KU All-American Ryan Vermeer will compete in the PGA Championship in St. Louis next week. Vermeer qualified by winning the PGA club professionals championship and will be competing in the event, the final of golf's four majors, for the second time.