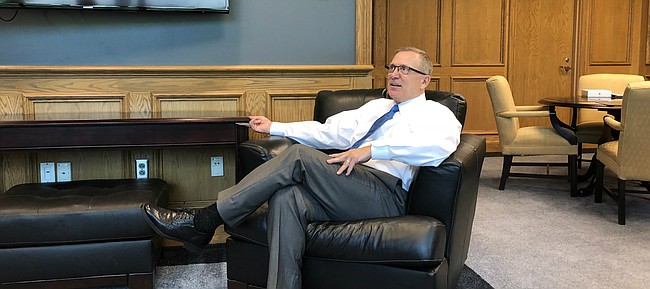 The bare walls and empty bookshelves were an obvious sign that the athletic director's office at the University of Kansas had a new tenant.
But the demeanor of the man sitting in the leather chair that faced north and looked out over the newly renovated Burge Union toward KU's campus hardly looked like it belonged to the new kid on the block. Instead, Long, who on Wednesday met with a small gathering of reporters in his office, appeared confident, comfortable and brimming with excitement about his new opportunity and all of the challenges ahead.

Wednesday was Jeff Long's first day as the AD at Kansas. But if not for the mundane list of how his morning was spent — meetings with HR, small talk with coaches, settling into his new desk — one might have thought Long had been around for months already.
That certainly was the vibe that Long's wife, Fanny, found just after 11 a.m., when the couple celebrating their 26th wedding anniversary finally got the chance to talk on the phone.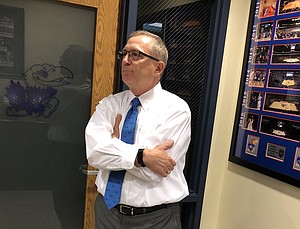 Like any spouse curious about their partner's new job, Fanny's first question was broad and could have covered any number of topics: "Well, how's it going?"
"And my response to her was, 'You know, it feels really good here,'" Long said. "As you meet people, you're in the town and you're on campus, it just feels really good. In my career, I've gotten to some campuses and said, 'What did I do?' But not here at Kansas."
And, with that, the latest chapter in an impressive career that has led Long to this role three times before was off and running.
There are, of course, plenty of items on his to-do list that are much more pressing than filling the shelves and walls in his new office. But Long's philosophy on his latest transition centers on connecting with people and making tangible progress each day. That, and only that, he believes, will allow him to get a true feel for his new job. When he has that firmly in his grasp, then the real work can begin.
"You have to live the culture to know it," said Long, who recently wrapped up a weeklong trip to Yellowstone National Park with his wife and two daughters. "I've been enough places that I could ask questions about culture and fit and start to understand some of those things, but I tried not to ask people about other people because I want to form my own opinions from working with and meeting them."
That, Long said, would take time.
Whether it's learning the inner workings of his staff, building relationships with KU's donors or getting to know the coaches and student-athletes who wear crimson and blue, Long believes he will be much further along six months from now than he is today.
In order to ensure that's the case, Long has a short list of priorities he plans to address sooner rather than later.
"There's a number of things," he said when asked about his plans for his first month on the job. "And many more than one priority."
Finding a new head softball coach, getting a feel for his administrative staff and determining whether new administrators need to be added are among his top chores.
"As a new person coming in, there's a title and there's a line of responsibility and then there's what they really do," Long said. "(Understanding) that only comes by talking and assessing, so that's certainly a priority, meeting with the upper-level staff to really understand what they do and who they manage and what they're really responsible for. From there, we'll look at it and see if there are any changes that need to be made going forward. Is there an administrative position that is missing or lacking that we may need to bring somebody in for?"
And then, there's football and fundraising, two things that go hand and hand more than ever these days and, in many ways, are never-ending tasks.
In step with his plans for evaluating the staff and KU's programs, Long plans to do a deep-dive analysis of both to make sure that KU is operating as efficiently as possible in both departments.
"Obviously, fundraising is always a priority because it's like recruiting for the coaches; it's the lifeblood for an athletic director," Long said. "And that's a difficult one, too, because it's about relationships. Fundraising is relationships. My team has to have good relationships and I'm sure they do. And as AD, as leader, I have to start to build those relationships, and that does take a little bit of time."
Stepping into the middle of a major fundraising effort is a first for Long.
Last Fall, KU launched a $350 million campaign designed mostly to bring football into new territory, complete with a state-of-the art indoor facility that is currently being built and plans for a renovated Memorial Stadium that will match its stature.
Both remain ongoing — Long on Wednesday characterized the campaign as "definitely active" — but both are under evaluation, as well.
"My understanding is that, between hiring a new athletic director, they thought it was best to, I'd say, pause and give me a chance to come in, assess and decide how it moves forward," said Long, addressing why the website for the Raise the Chant campaign remains down. "They're continuing to fundraise, they're still continuing to raise money, but we'll look at it and maybe there's a different course we take or something. But it is still definitely active."
Added Long when asked if he planned to re-evaluate the meat of the campaign: "I think I have to. I need to understand how and what the initial launch was and then decide, where do we take it from here? How does it move forward?"
One key player in that process is KU alum David Booth, the man who helped jump-start the whole thing with a $50 million pledge last fall.
"We had a great conversation on the phone," Long said Wednesday. "Really enjoyed talking with him. And I'll have more conversations with him because, when you make an investment like that in our program, I want to learn, from him, why it was important to him to make that (donation)."
Another man who figures to play a role in the process is football coach David Beaty, who is set to kick off his fourth season in charge of the program next month and carries a 3-33 record into the 2018 season.
Long said he and Beaty exchanged text messages Wednesday morning and the new AD plans to meet with Beaty and his team on Thursday morning.
That will mark the infant stages of an important evaluation of KU's struggling football program, and Long's assessment, which could last a month, will include everything from one-on-one meetings with Beaty and talks with donors to visiting practice and evaluating the program's philosophies, policies and procedures.
When specifically discussing football on Wednesday and outlining how he hoped to build some — buzzword alert — momentum for the program, Long said, "We anticipate having success this year."
When asked where that confidence came from, he said, simply, "I'm an optimist."
"It's the old thing, you've got to believe in success before you have it," he explained. "So I believe in this team, I believe in the coaching staff, let's go and see what we can do.
"I'm new and I want to see it. I want to see it in practice, see it in the games, see success on the field, see how we're building, see what we have in underclassmen and such coming up for their team. It's a big process to undertake and evaluate in a short period of time."