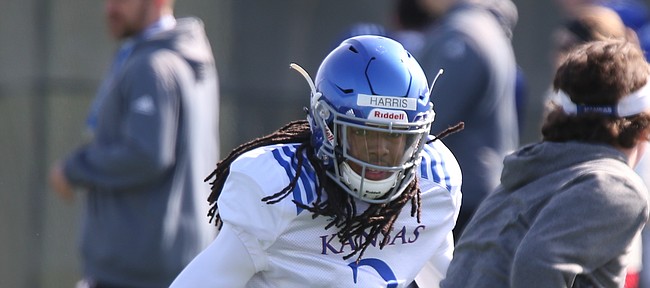 As Kansas football players experience their first practice of the preseason on Friday, most of the Jayhawks, and all of their coaches, already know what to expect out of true freshman cornerback Corione Harris.
A four-star prospect from New Orleans and a household name among those who keep up with KU recruiting since he committed to the Jayhawks in February of 2017, Harris, of course, graduated from Landry-Walker High early in order to enroll at KU this past January and get a head start on his college career.
Fellow Jayhawks raved about Harris' range, recovery speed and potential in particular as the team went through 15 spring practices.
Still, redshirt senior and defensive leader Daniel Wise shared recently he learned even more about Harris over the past several months, amid strength and conditioning workouts and player-led practices.
"You kind of can see how his work ethic is and how he trains. Hard worker," Wise said. "He trains hard, he eats right. He's following what the nutritionist tells him. He's following what (strength coach Zac) Woodfin tells him. He's changing his body for the better. He's really honing in and focusing in on a lot of the small details in order to be able to compete and be able to play Big 12 ball."
Listed at 6-foot-1 and 180 pounds, Harris, head coach David Beaty warns, is far from polished.
"But he's a guy that turned heads for us during spring ball. He was a high school senior and he definitely stood out," Beaty said. "He had some different intangibles to him that some of our guys don't possess, even at a young age."
So far, the fourth-year head coach has shied away from making any promises about the type of impact Harris could make as a true freshman this fall.
Even so, KU had enough issues in its secondary in 2017 that it's difficult to envision Harris not getting a fair shake at competing for playing time, at the very least. Rivals ranked him as the 15th-best cornerback in the Class of 2018, and he spurned reported offers from eight different SEC programs, including LSU, Auburn and Georgia, as well as the Big 12's Oklahoma and Texas, to join the Jayhawks.
"He still struggled," Beaty added of Harris' college football initiation in the spring, "because there's still some technique when you get to this level that you have to master. But you saw him grow. And he can make up for issues that a lot of guys at that age can't make up for, just because he's got so much skill."
O-line expected intact
The dire state of KU's offense line earlier this year robbed the team of typical scrimmages and even a spring game.
The banged-up status, some worse off than others, of eight of the offensive linemen on campus at the time meant 11-on-11, game-like repetitions were risky, if not difficult, to produce.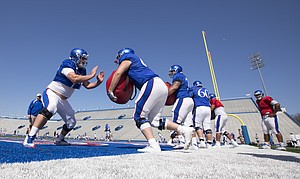 Beaty forecasted a far better situation as the team opens preseason camp.
Junior tackle Hakeem Adeniji, a starter in all 24 games since arriving at KU, has recovered from two offseason surgeries — one on each shoulder.
"He's completely healthy and back ready to go," Beaty said of Adeniji.
Likewise, sophomores Chris Hughes (shoulder) and Cam Durley (knee) are back to full football availability after medical procedures of their own.
"The good thing is, we went through the entire spring and those guys got reps every single day," Beaty said of those three and other injury-hampered linemen who were able to stay involved. "They didn't get touched, but they got just about everything else. We made a lot of progress that typically you don't do with injured players. Give a lot of credit to our staff for being very creative about how we did that. I think it's going to help the development of our quarterbacks, as well."
Heading into August preparation, the KU coach feels fortunate that key members of the offense didn't completely "lose" their offseason practices in March and April.
"So we were able to create and design practice so that we were able to continue to develop those guys," Beaty said. "So much is key in your feet anyway."
KU has since added seven more offensive linemen to the roster, most notably University of Houston graduate transfer Alex Fontana.
Roster breakdown
On the eve of KU players reporting to preseason camp Thursday, the roster listed 111 players in total.
There are five quarterbacks, eight running backs, 21 offensive linemen, 14 receivers, five tight ends and three fullbacks.
The defense features nine defensive ends, five defensive tackles, 12 linebackers, 11 safeties and 10 cornerbacks.
There are eight specialists.