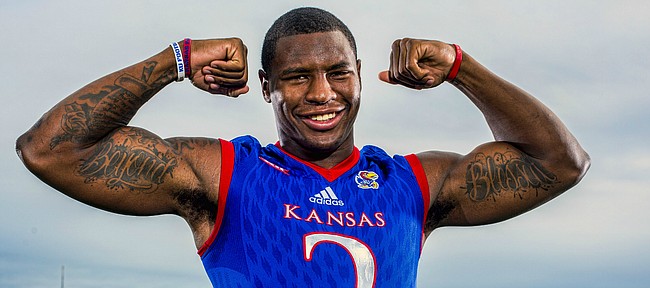 His Kansas playing days behind him, Dorance Armstrong Jr. gave his teammates one more thrill Saturday.
An hour and seven minutes before the start of what originally was scheduled as the spring football game and later was downgraded to the spring showcase, the Kansas football players watched the NFL draft from the locker room when the moment they all awaited arrived.
Gil Brandt, the father of modern football scouting and a vice president of the Cowboys from 1960 to 1989, stepped to the podium and said:
"With the 116th pick in the 2018 NFL draft, the five-time world champion, America's team, Dallas Cowboys, select Dorance Armstrong, defensive end, Kansas, a local player," Brandt said.
Kansas head coach David Beaty quickly reached Armstrong via FaceTime and extended his arm so the players who gathered behind him could see Armstrong.
"I think he was pretty moved when he saw our guys jumping up and down," Beaty said of the fourth-round draft choice. "We couldn't even talk to him because everybody was screaming, and he was just smiling. He had the biggest smile on his face."
When you're America's team, everybody's a local player. For the record, though, Armstrong, is from Houston, 240 miles from Dallas.
Three-year teammate Daniel Wise, a defensive line prospect for the 2018 draft, is from Dallas. He chatted with Armstrong after the end of Beaty's FaceTime call.
"I told him on the phone, 'You're going to find out Dallas is a lot better than Houston,'" Wise said. "The Cowboys got a steal. They got a good one."
Armstrong became the highest draft pick from Kansas since safety Darrell Stuckey was chosen by the San Diego Chargers with the 110th pick of the 2010 draft.
Armstrong bulked up to 257 pounds for the NFL combine, a move that might have backfired since he wasn't used to running with that much weight. He ran a disappointing 4.87 40 time at the NFL combine.
Beaty said he is "way faster" than his combine time, which didn't improve at the pro day at KU.
"They got a steal because the dude is a fast guy, very quick," Beaty said. "He was just carrying a little bit too much weight probably when he went through those workouts. But that dude can run. You guys have all seen that. They really got a steal out of him at that point in the draft."
Defensive end Ben Goodman, one of many former Kansas players in for the weekend, said he works at an energy company as a first responder to calls regarding gas and oil leaks. As a senior, Goodman set a good example for the freshman Armstrong.

"I'm so excited for him. I talked to Dorance when I was in the locker room," Goodman said. "He was so excited and he was happy to be a Dallas Cowboy. The process went the way it was supposed to go, but I wish it would have gone faster. I think he's a second-day (when second and third rounds take place) player."
Why?
"I played with him his freshman year and I know what he can do," Goodman said. "He is a great pass-rusher with instincts. You could see the type of player he was going to be. He's just naturally gifted."
Armstrong arrived at Kansas weighing 212 pounds and was listed at 246 during his third and final season.
"The Cowboys are going to find out they got a terrific guy in addition to a great player," Beaty said. "He is going to be a guy that keeps his life together, so it's going to make him a better player. He's one of those guys that truly lives by how you do anything is how you do everything. They got a great guy.
"Sometimes, when you're dealing with the D-line, you're talking about some really flamboyant personalities, and he's just a worker," Beaty said. "He is just a worker. I think they're going to love having him."
Kansas went 3-33 during Armstrong's three seasons at Kansas, but he never let it drag him down, never used it as an excuse to let down. His consistent effort was one of the factors that enabled him to go in the fourth round despite a disappointing 40 time for a player his size.
Nobody played better than Armstrong in the lone victory against an FBS opponent — versus Texas in overtime in 2016 — during Beaty's three seasons. That game felt like a turning point for the program, but it didn't play out that way. KU went 1-11 in 2017 and didn't have enough healthy offensive linemen to play a spring game Saturday.
Armstrong will be missed, but Kansas appears to be well stocked along the defensive line. The biggest challenge remains cobbling together an offensive line capable of creating space and time for the playmakers. That doesn't appear to be going as well.