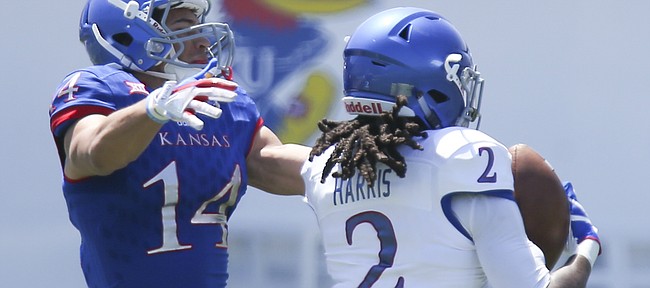 Before cornerback Corione Harris emerged from the Kansas football locker room with his teammates for the program's spring-concluding open practice Saturday at David Booth Kansas Memorial Stadium, the true freshman from New Orleans playfully joked with fellow Class of 2018 signee and Louisianan Anthony "Pooka" Williams.
"Pooka, you can't run with me," Harris told the visiting running back, as KU head coach David Beaty, who related the interaction, observed from nearby.
The speed of the four-star addition to KU's secondary proved to be one of the highlights of the so-called showcase, which took the place of a traditional spring game or scrimmage, due to significant injury concerns along the Jayhawks' offensive line.
During the later stages of the practice's team period, which featured the closest scenarios to a scrimmage, with 11-on-11 repetitions, Harris made a perfect play on a deep ball down the middle of the field from senior quarterback Peyton Bender, knocking the pass away from its intended target and onto the turf.
"As I watched him today," Beaty said of Harris, a 6-foot-1, 180-pound corner who graduated from Landry-Walker High early in order to enroll at KU this spring, "the thing that just continued to stick in my mind is he's getting beat, but he has recovery speed that not many other guys have, right. That's where he's different than maybe some of the other guys. He got beat two or three times today, and I mean, we might need to get the ball up a little bit faster and it would have helped a little bit, but he still was recovering. He's got some closing speed."
Photo Gallery
Kansas football open practice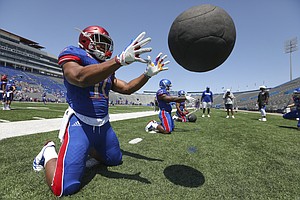 View a gallery of images from an open practice on Saturday at Memorial Stadium.
All three of KU's quarterbacks whom Harris spent the practice trying to pick off rotated in and out of the lineup during the team period. Bender took the first snaps for the offense and over the course of the afternoon completed 7 of 11 passes. The senior QB suffered one interception, when tight end James Sosinski couldn't pull in a throw and safety Mike Lee secured the turnover.
Redshirt junior Carter Stanley, second in the QB rotation, connected on 9 of 11 attempts without a turnover.
Sophomore transfer Miles Kendrick went 6 for 10 and had some issues completing his deeper throws during other periods, too.
Though requested for post-practice interviews none of the QBs spoke with media members, as a KU official said the team wasn't entertaining such entreaties as it would on a game day in the fall.
When asked for his general thoughts on the practice and Bender, in particular, who displayed the most consistent deep-throw accuracy, Beaty hesitated to provide much feedback.
"You know, it was a little bit hard to see, because we kind of had a practice format, and I'm watching a little bit more than just the 'Q' during that time. I can watch him a little bit more on video. But I saw a lot of completions out there, which was good, taking what they gave us," Beaty said. "I saw a lot of plays, balls that were thrown three or four yards downfield that turned into eight-yard plays on first down, got you second-and-medium, second-and-short, and you're in a lot better situations for second down when you're in those situations. And I thought our guys did a good job of doing that."
In total, the offense ran approximately 50 plays, mixing in about one run call for every two passes, as a few hundred fans watched from the stands.
"Knowing that there wasn't a game and having that amount of people in the stands," senior linebacker Joe Dineen said afterward, "I was honestly surprised that that many people showed up. From all of us on our team, we appreciate that more than they know."
Outside of Harris, Lee and the quarterbacks, the spectators also witnessed noteworthy glimpses of various Jayhawks: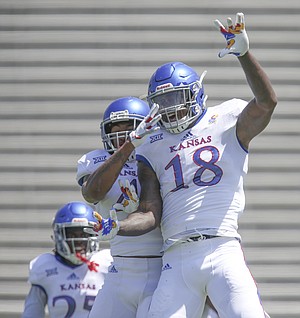 • The team period commenced with one of the loudest plays of the practice, when redshirt junior linebacker Denzel Feaster de-cleated returner Quan Hampton on a kickoff.
•Senior wideout Steven Sims Jr. caught five passes.
• Sophomore receiver Stephon Robinson Jr. hauled in three receptions, including a deep ball from Bender.
• Junior running back Kendall Morris broke free for a rush of roughly 20 yards.
• Dineen broke up a pass over the middle by Stanley.
• Senior receiver Kerr Johnson Jr. finished with three catches, including one long ball from Kendrick, with Harris covering him closely.
• Redshirt freshman corner Robert Topps III broke up a pass in the end zone from Stanley intended for Evan Fairs.
• Junior cornerback Julian Chandler knocked down a Kendrick pass.
• Senior defensive lineman KeyShaun Simmons blew up a would-be running play in the backfield.
• Redshirt freshmen Joey Gilbertson and Jack Williams both took reps at center.
• Senior kicker Gabriel Rui drilled a 25-yard field goal and sophomore Liam Jones connected from 30 yards.